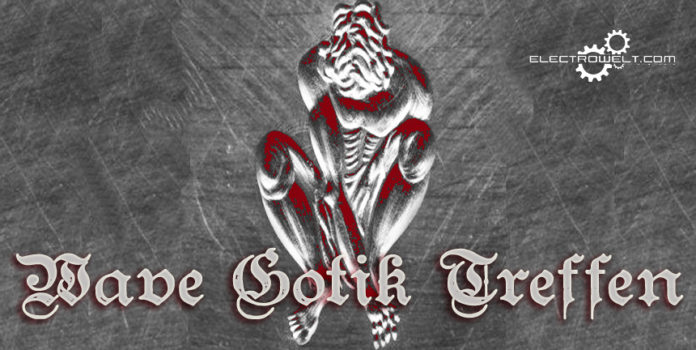 WAVE – GOTIK – TREFFEN 18-21/05/2018
REVIEW by Malice F. & George P. for Electrowelt.com
Electrowelt.com keeping up with its tradition presents the most important moments of the 27th Wave-Gotik-Treffen festival in Leipzig, Germany.
For the 27th consecutive year, at Whitsun, THE biggest worldwide music -and not only- gothic festival took place in Leipzig and managed to gather around 21.000 fans from the gothic scene from all over the world, USA, Japan, Australia, Mexico, making it again THE biggest international gathering of the dark family.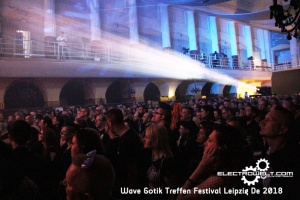 Furthermore, the festival occurred at more than 50 venues all over the city, more than 200 bands performed, hundreds of gigs with Gothic music ranging from Electro-Pop to Goth-Metal, from EBM to Neofolk, from medieval music to Post Punk, plus a fully diverse program, like for example the exhibition at Altes Rathaus for Leipzig Original that informed us about the city's history from the Middle Ages since the Voelkerschlacht time, which was extremely interesting.
There were the art exhibitions and of course like every year there were readings and lectures held by various authors Christian von Aster, Mark Benecke, Lydia Benecke, Markus Heitz and many more, as well as movie presentations at the cinema and the classic autograph sessions. The WGT program also included beautiful classical music again, such as, choral and organ concerts. Since there was great demand and interest from WGT visitors in the last few years, this year's WGT program included once again wonderful classical and chamber music, operas, such as the organ and choir concert: 'French cathedral music of the 19th and 20th centuries', 'Veni creator – a Whitsun hymn' and 'West Side Story' – a musical in two acts based on an idea by Jerome Robbins.
FEEL FREE TO VISIT OUR FESTIVAL PHOTO GALLERY HERE 
Art and culture lovers had the chance to admire the historical buildings of the Renaissance, Baroque and Jugendstil (Art Nouveau) eras: the entrance to several of Leipzig's museums was again free of charge for WGT-guests to visit.
The Agra Café was again the venue for the photo and art exhibition with works by Steve Bauer, Eliza Báthory, Eugenia Bychkova, Roman Gilz, Consuelo Gorgi and Michael and Thomas Tiltmann. Exhibited works of Mexican artists were found in the New Augusteum of the University of Leipzig and in the main train station.
One of my personal favourite Leipzig sites and walks is the Leipzig South Cemetery (Suedfriedhof), one of Europe's largest and most historically significant cemeteries. There is a large monument and outstanding park that includes about 500 important works of art and the largest European cemetery. Again there were guided tours of the South Cemetery available to the WGT visitors.
The visitors painted once more the city black and had the chance to attend the impressive medieval market and the pagan village at Heidnisches Dorf, the impressive Victorian Picnic attended by visitors dressed in historic clothing and costumes, many parties at the wonderful Moritzbastei, the huge and impressive Agra Market and celebrate the scene until the early hours of the morning.
There were some clouds on Friday, but in general the weather overall this year was fortunately an ally to all the visitors who wanted to camp at the Agra festival campsite with the Obsorgekarte.
We had great WGT weather! Free use of all public transportation for all WGT visitors really helps too, as long as they present their WGT bracelet or band in German, which also applies for all WGT concerts.
We especially found extremely useful the special tips that WGT offered us, that is one of the various reasons we love the WGT festival: apart from famous bands of the scene, the WGT program included several hidden treasures and discoveries regarding lesser known bands that delivered outstanding concerts.
So before visiting the WGT, we definitely would like to suggest to take a closer look into the program and to listen to some sample tracks of the artists you don't know. The WGT app proved to be especially helpful too, to check schedule times and gigs on the road.
The festivities started off on Thursday 17/05/2018, with a once more wonderful WGT EBM warm up at the wonderful Felsenkeller venue with very much beloved and appreciated EBM bands, Portion Control, Plastic Noise Experience, Wulfband, Full Contact69 and Amnistia. Unfortunately, we were not as lucky as last year to manage with our working schedules and attend the WGT warm up, but nevertheless, as we learned from our friends and fellow WGT visitors, it was a great warm up gathering and the performances were awesome too. A little bit jealous I admit!
Like previous warm ups, there was also the warm up concert event, which is always worthwhile to visit, at Moritzbastei, with Electro All Star legends like Eskil Simonsson (Covenant), Daniel Myer (Haujobb, Architect), JD Tucker (Grendel), Torben Wendt (Diorama).
Great and promising start WGT!
Friday 18/05/2018
Crisis (GB), Black Line (GB/USA)
by George P and Malice F
After all the necessary press procedure, our first and much anticipated gig from the past was the punk act Crisis from Great Britain, at the Volkspalast Kantine. As usual, if someone would like to have a fun and fulfilling WGT experience, tough band selections had to be made. Especially, if it concerns media coverage like we had to do, in order to cover the festival for you guys in the best way possible and with the means available.
Crisis began in 1977 with prominent founding members of later on Death in June members Tony Wakeford at the bass, Douglas Pearce at guitars and their sound resembled Clash and later on evolved into a more post punk direction. They performed their distinctly controversial and far left form of punk rock at rallies like Rock Against Racism or Anti-Nazi and Right to Work marches.
Lloyd James (of Naevus) on vocals was very good, unfortunately I did not see Tony Wakeford. A very good concert in the full beautiful venue of Volkspalast Kantine, among Crisis old songs" Red Brigades" certainly stood out. We also listened to "Kill kill kill", "UK 79", but we couldn't stay for "Nothing changes", there was no time!
We had to leave Volkspalast early for Westbad and Black Line.
We definitely had to check out this project since we and many of our Electrowelt readers and supporters are avid Nitzer Ebb and Douglas McCarthy fans.
We missed the beginning, a lot of Nitzer Ebb fans gathered at the venue, but they were disappointed, as they expected the Nitzer Ebb sound or at least more old school dance vibes, than the soft synthpop sound of Black Line. A nice concert, but we will stick to Nitzer Ebb. Highlight was the song cover of Stooges' "I wanna be your dog".
Exhausted, we called it a night, since a demanding next day was in front of us.
FEEL FREE TO VISIT OUR FESTIVAL PHOTO GALLERY HERE 
Saturday 19/05/2018
Zeromancer (N), 3Teeth (USA), Oomph! (D), Qntal (D), Blacklight Ascension (GB), Electrowelt.com dj set @Moritzbastei
by Malice F and George P
For 4th consecutive year, we had the honor and enormous pleasure to be part of the Wgt festivities and parties and spin some of our music selections, this time at Moritzbastei club. Our dj set lasted all night, but it began later than usual at 00:00, so there was fortunately time for concerts.
Our day started at Agra, catching up with friends from Australia, Germany, Belgium, Great Britain and capturing with our cameras the wonderful and impressive festival visitors. After the necessary Absinth potions at the Agra garden, we headed in the venue.
First band was Zeromancer from Norway. They are an industrial rock band formed in 1999 by members of the band Seigmen. Very energetic stage presence, very good lightshow, industrial rock tunes and up beat atmosphere. Highlights were their hit "Clone your Lover" and the cover of Depeche Mode's anthem "Photographic".
Next was a band I was not familiar with, but I reckoned that their music would be industrial rock, to fit in the day's roster, 3 Teeth from America. The band started in 2013 in Los Angeles California, their sound resembles the sound of Ministry, NIN, so it came as no surprise to learn that they were selected by Rammstein to open for them in their performances in Mexico. Tool also hand selected them as their supporting act for the 2016 North American tour. The front man, Alexis Mincolla, was exquisite on stage and presented us in very imposing way the band's energy. A very good dark industrial gig, the interesting visuals and projections aided their performance in the best way possible. Their setlist: "Divine Weapon", "X-Day", "Final Product", "Dust", "Slavegod", "Chasm", "Interlude C#", "Insubstantia", "Atrophy", "Dissolve", "Pit of Fire", "Tabula Umbra", "Master of Decay" and "Nihil".
It was time for our last Agra concert, a band that is much beloved among the Germans in particular, as we have seen numerous times before, Oomph!. The German band was instrumental in the creation of the so called Neue Deutsce Haerte in the 90s, music that combines rock industrial and metal elements, with bands like Rammstein, Samsas Traum. Their performances are always well received by the audience, with a lot of energy by the band and fans and very good sound.
The venue was full for them and when they played their smash hit "God is ein Popstar", everyone in the audience danced around and cheered them. Very good lightshow and impressive smoke machine installations for the front man and the guitar – bass players. The set list included "Traumst Du", "Mein Schatz", "Mein Herz" and last but not least they closed their gig with "Augen auf".
QNTAL at the Heidnisches Dorf? Of course I could not miss it for anything, especially performing in such a perfect for their music and atmospheric place like Heidnisches Dorf. So at about 21:20 I was at the front of the stage, waiting for my turn to get in the photo pit for some pictures. As expected the Dorf was full of visitors, the medieval were intense with all the merchandisers, stalls with awesome food and drink and of course all the fans of the medieval era dressed appropriately.
Heidnisches dorf is a unique experience, it attracts visitors from all kind of music tastes, and outside of the wgt festival, and you should definitely pay a visit to it! QNTAL is a German electro medieval band that was founded in 1991 by Ernst Horn and Michael Popp and after a while the mezzo-soprano singer Sigrid "Syrah" Hausen joined.
Ernst Horn left Qntal in 1999 to concentrate on his other great and awesome band, Deine Lakaien with Alexander Veljanov and also in 2001 he formed Helium Vola. Mariko from Unto Ashes joined forces in 2008 and her angel voice is divinely combined with the one of Syrah. The band kept on using historical instruments, that we are able to see them played by the band during their live performances, but also electronic sounds and in that successful way, they combined the traditional with the modern elements in their music. As always we witnessed a super setlist, I personally liked "Fruehlingslied", the wonderful "Schnee", "Die finstere Nacht" and of course the smash hit that offered a great deal to the dark club scene of the '90s, "Ad Mortem Festinamus".
We met with my significant other at the Qntal concert and left in a hurry for our Electrowelt.com dj set (dj George P. & djane Malice F.) at Moritzbastei!
Our dj set was at the same venue Black Light Ascension from England was performing, Veranstaltungstonne (VT), so it was a great pleasure for me to catch their last songs. I was already a fan of the industrial electronic project KnifeLadder, founded by Andrew Trail with John Murphy (SPK, Death in June, Whitehouse, Current 93), before creating Black Light Ascension, so I wanted to check them out live.
It was an awesome performance, too bad I couldn't be there from the start. Their stage performance was electrifying and their sound was very much to my liking, 80s synth new wave at its best, imagine sounds like Fad Gadget, combined with a touch of Clock DVA! Thank you WGT, for sticking to quality, not always so popular and known, but unique band selections. You should definitely check out their album "Post Future Recordings" with the amazing dark industrial cover.
Now back to the Moritzbastei party, the dj night was called Chorus Noctem and we collaborated in a great way with dj Magnum and dj Darksense from Schwarzes Leipzig Tanzt. A lot of visitors, awesome party vibes, danced the night away.
We got in touch with dear friends from all over the world that we meet and hang out every year at the WGT and of course we met a lot of nice people with very supporting words for our presence there. The music we played was mainly EBM, Industrial and Gothic with Dark Wave near the end, we always emphasize to anthems of the scene and our target is for everyone who spends time at our parties to dance and have fun. We would like to thank from heart all of you, as well as the guys and girls at Moritzbastei and our collaborators dj Magnum and dj Darksense for an amazing party night. Hope to see you again at our next dj set at the 28th WGT and create once more great memories.
FEEL FREE TO VISIT OUR FESTIVAL PHOTO GALLERY HERE 
Sunday 20/05/2018
Spark (S), Sturm Café (S), Vomito Negro (B), Rosa Crux (F)
by Malice F & George P
Sunday was an ode to old school EBM! We started our concert day at the wonderful venue of Stadtbad at around 18:00. The venue was already full, despite the early starting hour. First band of the day the Swedish Spark! The band is an EBM duo from Sweden, formed in 2007.
Their songs mainly are in Swedish and when they appear on stage, they are both dressed in circus outfits with masks or elaborated clown face make up. They have a big fan base among old school EBM fans, the audience had fun and danced to their Swedish songs. Their performance was presented in cheers by a well-known legend who was performing as a headliner at Stadtbad with his Klutae project, Claus Larsen from Laether Strip. We danced to "Zombie" and "Maskiner".
Next it was time for Sturm Café, another EBM Swedish sensation.
A cup of coffee with thunder symbols let us know that it was time for their bombastic old school EBM sounds. The Swedish project was formed in 2001 in the town of Gävle and became one of the leaders on the scene of old-school EBM under the brand name "Anhalt EBM". Gustav appeared on stage for keyboards and Jonatan Löfstedt sang their hits, they had a third member as percussionist. Jonatan was dancing the whole set through and it carried away the EBM fans in the venue.
They sing in German, so they we were very warmly accepted by the audience. Awesome were their hits "Scheissnormal", "Koka Kola Freiheit" and "Zombiegaenger".
Afterwards, I stayed for the next act, George had to leave for Rosa Crux and Schauspielhaus, where we would meet later on, as it was a performance I wouldn't miss too.
It was time for my old school favorites, Vomito Negro. Vomito Negro was one of the pioneering Belgian acts which contributed to what we know today as Electronic Body Music, together with The Klinik, A Split Second and of course Front 242. Wonderful Belgium!
Gin Devo and his band mate Sven Kadanza entered the stage and their performance was accompanied by strong visuals behind them. Sven took care of the e-drums and percussions, while Gin created some atmospheric sounds on the synth in front of him, in between songs he took his place behind the synth and performed. The set list was very good, it covered the band's 33-year long career. However, the volume was a little bit low at the beginning, but it was soon corrected and their dark electronic signature Vomito Negro sound came into full effect.
Highlights were "The Needle", "Burning Man", "Dance with Death" and of course their smash hit "Blood, Sweat and Tears". Amazing old school EBM act.
Change of venue and attitude, it was time for the amazing venue of Schauspielhaus and the unique Rosa Crux.
Enormous queues, which was perfectly understandable, this live act Rosa Crux experience is not to be missed and they don't perform as often as other bands in the scene. Rosa Crux is French band that was founded in 1984 in Rouen. Their sound is described as dark ritual; their lyrics mainly are in Latin and they manage to convey a deep esoterism through their work and their songs are presented in extensive, symbolic and intense stage performances. I was so excited, as everyone who managed to witness this fabulous concert.
Waiting for the band to enter the stage, their famous formation of skeletons playing drum machines (known as BAM), as well as the fantastic enormous church bells on stage, created a beautiful anticipation for their performance. Olivier singing, playing the piano and with Claude playing with the bells, dancers that waved enormous flags, performers in sand formations on stage during the mystic act of Danse de la Terre.
Truly unique, truly inspired and amazing.
Magnificent set list that cover their band journey throughout the years: "Sumunt mali", "Adorasti", "Hel Hel", "Declinate", "Invocation", "Nescit Nox", "Incorrupti", "Terribilis", "Qui non", "Sursum Corda", "Proficere", "In Tenebris","AnteA", "Venite", "Vallemiser", "Omnes", the magnificent masterpiece of Eli-Elo (Danse De La Terre), "Sacrum".
What a way to close our night. We were left speechless afterwards, we needed a moment to return to reality and discuss the performance with fellow admirers. Mind blowing performance captivated the WGT audience and we wanted to stay with this concert image in our minds and this feeling in our hearts.
Monday 21/05/2018
Silent Runners (NL), Modern English (GB), Trisomie 21 (F), Chameleons Vox (GB), Teho Teardo + Blixa Bargeld
by Malice F and George P
The last day of the festival was about some very important and legendary bands and tunes of the dark wave, post punk scene. The venue of Haus Leipzig was full from early on, and after Silent Runners it was packed, no one could get in until there was sufficient capacity. We arrived in the middle of the Silent Runners set list. They come from the Netherlands and their music is a mixture of post-punk and dark synth music.
They released a good album in 2017 called "The Directory". It was a nice show, not my cup of tea, but the audience seemed to appreciate it enough. We listened to "Nobody Here", "The Knife", "Cavemen", "Forgotten" and "Through the Night". It was time for the first legendary of the post punk bands of the night I was dying to catch live for years and WGT took care of it: Modern English.

They started off from Colchester, Essex, England back in 1979. The group disbanded in 1987, they got back together two years later and then disbanded again after two years in 1991. They reunited again in 1995.
Their latest album "Take Me to The Trees" came out in February 2017. Their stage show is full of energy, their sound awesome, and they play, they play their guitars, bass, keyboards, they are musicians with great songs. They were all dressed in white suits, they wanted in their way to appear happy, different and not dressed in black in a gothic gathering. The front man Robbie Grey was really something else on stage. We danced to the"Gathering Dust", "I melt with you", "Swans on Glass". Amazing history of post punk at its best.
Next in the packed venue of Haus Leipzig was the French Cold wavers, Trisomie 21.
The band was formed in 1981 by brothers Philippe as vocalist and Herve Lomprez at keyboards and guitars and the band's name refers to the chromosome of Down syndrome. Their concert was very atmospheric; the crowd was having a blast, they started their gig with "Where Men sit", then "Waiting for", "Sharing Sensation", "Rebirth", "Hear me Now", the wonderful "Tender Now" followed. Near the end, we listened to the always mesmerizing instrumental, melancholic track "La Fete Triste".
For their last song, Philippe said to us "you know this one" this is "The Last Song" and the audience went ballistic cheering the band.
And finally one more post punk legend as the night's headliner, Chameleons Vox.  Mark Burgess, Reg Smithies and Dave Fielding founded the band as Chameleons in 1981 in Middleton, Greater Manchester, England.
Their sound melodic with powerful and distinctive guitar riffs combined with the wonderful vocal performance of Mark Burgess deliver an awesome concert. Highlights were "Monkeyland", Swamp Thing", "In Shreds" and my personal favorite "Second Skin".
George had already left for Volkspalast in an attempt to see at least 1-2 tracks of Blixa Bargeld and Teho Teadro and fortunately I managed to listen to their last song, "A Quiet Life". Teho Teardo is an Italian composer, musician and sound engineer who has collaborated with Einsturzende Neubauten and Lydia Lunch among others and has created many cinema soundtracks too.
Together with Blixa Bargeld, of Einsturende Neubauten fame and former collaborator of Nick Cave and the Bad Seeds, they have released an album called "Still Standing" and have scheduled appearances promoting it.
The venue was also packed and their concert was a big success.
As usual, we stayed at the wonderful Volkspalast for the ritual and annual farewell neofolk party there, with apocalyptic folk, ritual music.
Not so many visitors attended, so we stayed for a little bit to say goodbye to our WGT friend and headed back to our hotel for some well deserved rest.
In conclusion, as always, we were so thrilled to be back at such a well-organized event and to present it for all of you at our web magazine.

The biggest dark gathering of the scene, excellent organization, fans from all over the world and of all kinds of music united, respected each other and had fun.
Great sound and concerts, big event diversity for all tastes, in the unique way of WGT. Leipzig and its citizens gave a big and warm welcome for once more to all us black dressed and weird creatures!
We are already looking forward to the 28th WGT edition of the black gathering next year, which will take place from June 7th to June 10th 2019.
Please check out our Electowelt.com Youtube channel with wonderful videos from all of our favorite bands and of course our extended photo gallery.
FEEL FREE TO VISIT OUR FESTIVAL PHOTO GALLERY HERE 
See you all again in dark Leipzig next year!