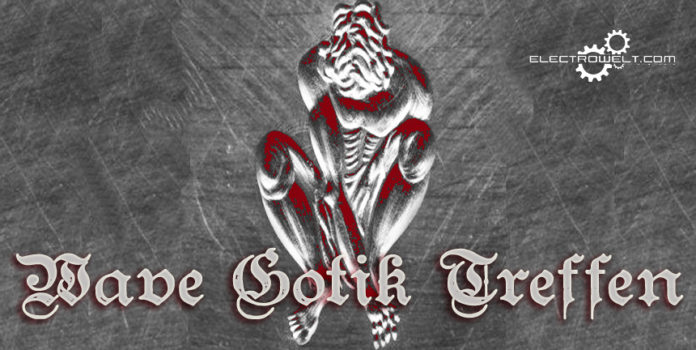 WAVE – GOTIK – TREFFEN 03-06/06/2022
REVIEW by Malice F. & George P. for Electrowelt.com
Electrowelt.com keeping up with its tradition presents the most important moments of the 29th Wave-Gotik-Treffen festival in Leipzig, Germany. For the 29th consecutive year, at Whitsun, THE biggest worldwide music -and not only- gothic festival took place in Leipzig and managed to gather around 20.000 fans from the gothic scene from all over the world, USA, Japan, Australia, Mexico, making it again THE biggest international gathering of the dark family. Furthermore, the festival occurred at more than 40 venues all over the city, more than 200 bands performed, gigs from Electro-Pop to Goth-Metal, from EBM to Neofolk, from medieval music to Post Punk, plus a fully diverse program like every year, which included art exhibitions, readings and lectures held by various authors, movie presentations at the cinema and the classic autograph sessions. Since there was great demand and interest from WGT visitors in the last few years, this year's WGT program included once again wonderful classical and chamber music, operas, such as the organ and choir concert.
Art and culture lovers had the chance to admire the historical buildings of the Renaissance, Baroque and Jugendstil (Art Nouveau) eras: the entrance to several of Leipzig's museums was again free of charge for WGT-guests to visit.
Anticipation was very high this year since the pandemic didn't allow the festivities to occur for the previous 2 years concurrently, all of us were more than eager to travel and attend concerts and events in a safe manner.
The visitors painted once more the city black and had the chance to attend the impressive medieval market and the pagan village at Heidnisches Dorf, where they could step back into the romantic atmosphere of ancient times at the medieval market place at this famous Pagan Village, the impressive Victorian Picnic at Clara Zetkin Park attended by a great number of visitors dressed in historic clothing and costumes and many parties at the wonderful Moritzbastei. For four days a large hall at the AGRA -Messepark transformed into the biggest Gothic-wares marketplace in the world, literally a Goth's paradise, where you can find a huge variety of clothes, shoes, accessories, and of course many CD & Vinyl stands, where you can spend hours and hours to explore thoroughly (as I always always make time to do so).
For all goth fans who are planning their visit it's useful to know that the inhabitants of Leipzig are extremely friendly, as well as familiar, with the Festival and its' visitors, gothic guests are very welcome here. The most fascinating aspect of the Wave-Gotik-Treffen is surely its unique magic atmosphere that covers the whole city. Cheap and entertaining accommodation is available at the huge Treffen camping ground, with a special ticket (called Obsorgekarte). Free use of all public transportation for all WGT visitors really helps too, as long as they present their WGT bracelet or band in German, which also applies for all WGT concerts, performance, as well as free museum entrances. We especially found extremely useful the special tips that WGT each time gives us, one of many reasons we love the WGT festival: apart from famous bands of the scene, the WGT program always includes several hidden treasures and discoveries regarding lesser-known bands that delivered outstanding concerts. Therefore, before visiting the WGT, we definitely would like to suggest to take a closer look into the program and to listen to some sample tracks of the artists you do not know. The WGT app proved to be especially helpful too, to check schedule times and gigs on the road. WGT organizers and press office make the best effort to organize matters efficiently, with the utmost care and respect to all the loyal WGT fans, who keep returning to Leipzig year after year to enjoy themselves and witness the biggest dark gathering of the scene.
The festivities started on Thursday 02/06/2019, with warm up dj sets at Agra 4.2 venue and willkommen dj sets at Darkflower club, which is always worthwhile to visit, in order to set the mood and prepare visitors for the start of the festival.
Friday 03/06/2022
Funhouse (S), Children on Stun (UK)
by Malice F
We were really so excited to return to the scene of crime 😊 to walk the streets, feel the atmosphere and attend concerts in wonderful dark Leipzig. Both, in 2020 and 2021, the festival didn't occur as usual due to the pandemic and restrictions for public health that came with it.
For us especially, because since 2007 we have not missed a WGT festival, we discussed this when we arrived, these past two years were very odd to say the least. Αfter two very difficult covid years, we could finally see friends from other countries and catch up, and foremost experience the enchanting dark atmosphere of the WGT festivities. We arrived on Friday morning, feeling overwhelmed to see the Hauptbahnhof and the beautiful historical center of Leipzig, as well as all the wonderful dark creatures! We weren't sure if WGT visitors would attend massively like previous years, because everyone was feeling so numb and cautious due to the Covid pandemic. So, we were pleasantly surprised to see that so many WGT visitors attended and were present after almost 3 very difficult years.
Following all necessary press procedure, I was so excited to finally see a legendary goth band as our first gig, the Swedish Funhouse, at the Taubchenthal venue, wonderful club with great sound. The weather was cloudy, it started drizzling a bit, but we didn't mind at all. We rushed at the venue, I had little time for some photos, as I was very glad to see it was packed! We always enjoy to catch goth bands with great history such as Funhouse. Formed in Kalmar, Sweden in 1986, goth rockers with wonderful goth vocals and such a great and kind front man, who interacted with the fans. My favorite "Second Coming" was released in 1998, if you are into Reptyle, Malaise, Merry Thoughts goth rock bands you should definitely check them out. We listened to "Velvet Kiss", "Hate you", "Dreamtime", "Forever True". Great WGT start for us.
What can I say for the next rare and so significant legendary goth band, Children On Stun, who performed next. Formed in August 1991 and taking their name from a song by the band The March Violets, they quickly made it and were successful in the genre. The band secured a record contract with Cleopatra Records in 1994 and released the album Tourniquets of Love's Desire. This album was well received within the UK goth scene and boosted the band's popularity. The fans welcomed them with great enthusiasm, the tracks that stood out and thrilled us were of course the well-known "Sidelined", my favorite "Cats and Devils Eyes", "Hollow" and "Echoes" the audience was having fun and dancing to their tunes.
Thank you WGT for the old school goth rare to see live gems.
We intended to visit Volkspalast for at least Of the Wand and the Moon, Devil and the Universe and Death in Rome also played, but it started to rain heavily, we left to at least catch OTWATM, but unfortunately had no luck with the S-Bahn or at least finding a taxi and we didn't make it. As usual, tough band selections had to be made. We called it a night, since a demanding a couple of days were in front of us.
Saturday 04/06/2022
Rotersand (D), Rabia Sorda (Mex), Then Comes Silence (S), The Names (B), Whispering Sons (B), Electrowelt.com dj set @Darkflower
by Malice F
Our day started at Agra, catching up with friends from all over the world, at our annual date at the WGT and in between capturing with our cameras the wonderful and impressive festival visitors or checking out the fantastic Agra market. After the necessary Absinth potions at the Agra garden, we headed inside the venue.
First band of the day at about 17:00 was Rotersand, who they describe their music as industrial pop. A German electronic music act, formed in September 2002 by musician/producer Gun and singer Rascal with dance music producer/DJ Krischan J.E. Wesenberg joining them shortly after. First time I saw them live was back in 2004 at another festival as a support unknown name with their new hit back then "Merging Oceans" and I knew they would become big. Since then they toured extensively, achieving over the years success and many fans in the industrial scene. The audience was singing and dancing to their tunes, Rascal was very energetic he referred in a supportive way to Ukraine and the atrocities of war, his reference moved us all.
We had a blast, cheering and dancing to every song. We stayed for the whole concert, they started with "Welcome to Goodbye" and continued with industrial club hits (in random order) like "Exterminate, Annihilate, Destroy", "It's about us", the bombastic "War on Error" and "Last Ship". Fantastic concert, a great party, which was accompanied by impressive light show and clear loud sound.
After the break and more Absinth, it was time for our beloved friend, Erk to take the stage with Rabia Sorda this time, at 19:15. Erk as a front man whether its Hocico or Rabia Sorda he is a guarantee for an awesome night, if you are into Industrial, electro genres you will party with him like there is no tomorrow. Rabia Sorda is the side electronic music project of Erk Aicrag, lead singer of the Mexican industrial band Hocico, though less aggressive than Hocico. Erk uses Rabia Sorda as a vehicle for his own musical creativity, where he mixes different aspects ranging from ethnic influences to 1980s-style melodies and punky attitude to aggressive electronic music. It was created back in 2003 and really took off as a project when Erk moved to Germany in about 2004. Rabia Sorda that means "Deaf Rage" and it means a lot to Erk as he feels there is no other way than being what he is and therefore he is deaf to other's opinions on him, because they don't mean anything to him. They performed "Deaf" that they wrote in 2013 about being Deaf and resumes the band's attitude to life. We also danced to "Violent Love", "Out of Control", "Obey me", "I' m Tragedy".
As usual tough band selections had to be made, we wanted to stay at Agra for Welle Erdball and VNV Nation, but we decided to attend the post punk gigs at Haus Leipzig venue in Leipzig city center.
Haus Leipzig was a few steps away from the wonderful cozy apartment we had for the festival, we rushed at the venue, separately once more, in order to have all impressions and photos needed for our review and to give them to you guys. George stayed for the whole Rabia Sorda gig and I ran to Haus Leipzig venue, which was already packed and turned into a sauna. I only caught the last songs of the Swedish Then Comes Silence that I really like and appreciate as a relatively new post punk band. I first noticed them in W festival in Belgium, it was obvious to us that they had everything it takes to make it, and they have done really well with their new tracks and live performances. We listened to "Strange Kicks" and "Rise to Baits" during an energetic fan and interactive with the audience performance.
It was 21:00 and time for The Names. The Belgian cold cave band was formed back in 1978, 45 years ago, a legendary band that has influenced the work of many bands of the dark wave post punk genre; they began as Passengers and were in the same record label like Joy Division, Factory Records. It was in fact great to see so many people of different ages in the audience having fun and dancing to the songs. The Names had great sound and awesome performances by all band members who were so experienced they talked to each other and communicated just by looking at each other. Discussing the band with some fellow press colleagues, photographers I was amazed to hear that some of them they never heard of them and didn't know about their music and history. I am glad they show them live and listened to their music that helped to establish and paved the way for the newer bands in the post punk cold cave genres. Highlights were "Discovery", "Flesh Wounds and we danced like crazy to their hit anthem" Calcutta".
For the next band, which has become quite popular among wavers the crowd in Haus Leipzig got bigger, many came to see them live. Whispering Sons is a post punk Belgian band with many followers and fans, created in 2013. They have been touring extensively over the last few years with a small intermission due to covid. Definitely dark aesthetics and electrified performance with outbursts in critical sections of their songs, their live gig was very well received by the audience. We listened to many of their hits that satisfied all the fans like "Got a Light", "Alone", "Hollow", "Aftermath", as well as their new hit that came out in March 2022 "Tilt".
George had already left and I followed after Haus Leipzig, as it was time for our first of the two dj sets for WGT this year. Electrowelt.com dj set (dj George P. & djane Malice F.), once again, we had the honor and enormous pleasure to be part of the Wgt festivities and parties and spin some of our music selections with Dj Lars and Dj LXP from the industrial band Painbastard at Darkflower Club, a well-known club in the goth scene and Leipzig! Our dj set lasted all night, beginning at 22:00, I arrived after my photo obligations and spinned my selections ranging from dark wave to electro after George.
A lot of visitors, awesome party vibes, and guests were dancing all night long. Thank you all for coming and for all the kind and nice messages you sent us. The music we played was diverse, ranging from dark wave to EBM to electro and Industrial, paying tribute to WGT's line up, we always try to cover all tastes with anthems of the scene and our target is for everyone who attends our parties to dance and enjoy themselves. We would like to thank all of you, as well as the people working at Darkflower and our dj collaborators for an amazing party night.
Sunday 05/06/2022
Future Lied to Us (D), Lights of Euphoria (D), Boytronic (D), Lacrimosa (D), Gary Newman (UK) Electrowelt.com dj set @Kätz club
by Malice F and George P
We had again to decide how to plan our concert day, I definitely wanted to see Boytronic and of course Gary Newman, since we never had the chance to see them live before. Therefore, we decided to miss the old school EBM with Jihad, Orange Sector and the Belgian pioneers A Split Second, as well as the romantic and melodic And Also The Trees, and we headed to Westbad venue at around 18:00. The venue was already full and the German synth pop act Future Lied To Us were on stage. The collaboration of our own 😊Vasi Vallis (NamNamBulu, Frozen Plasma, Reaper) and Krischan Wesenberg (Rotersand) with Damasius Venys (Mental Exile) as their singer since 2022. A pleasant mix of synthpop and beats, they were very well received and people enjoyed themselves dancing to their beats. We listened to "Tellurian", "Drops of Silver" and their new single that came out in May 2022, "Fly Away". Great gig!
Next in line a band we like a lot since we were young, many 90s concert and club memories for us, Lights of Euphoria. A German/Danish Electronic act, with Jimmy Machon from Denmark as a front man, once among artists of Zoth Ommog label, currently in Infacted-Recordings. Torben Schmidt, who also is a member of Suicide Commando live band, was also a LOE member. Great tracks that filled the dancefloors like "Fortuneteller", my absolute favorite "True Life", "One Nation" and "Subjection" were all heard. They had impressive projections, they were both in high spirits and dynamic on stage, everyone literally was dancing and cheering. We had a blast!
So around 21:00, I took my place in the pit waiting for the band to show. It's always so great to see his kind, artistic and moving performance. They began with the theme from "The Invisibles", and then "What can I Do", the bombastic "Valis" and "Why?" followed.
It was time for a much-anticipated concert of this year's WGT, Boytronic. A German electro pop group that was founded in early-80s under the name "Kapitän Sehnsucht" (Captain Desire) by Holger Wobker and Peter Sawatzki and inspired many synthpop and electro bands that followed, even in the Italo disco genre. They took the stage with James Knight as lead vocalist and Holger Wobker from the band founders who also participated as vocalist and full of energy in his ABBA t-shirt. The band was determined to make the WGT visitors have an awesome time. The venue was by this time packed and heated with enthusiasm. We listened to "Time After Midnight", "All you can Eat", "My Baby Lost its Way", "Diamonds & Loving Arms" and I can't really describe in words what really happened, when the first characteristic tunes of the 80s anthem "Luna Square" were heard! Their concert closed with the awesome "You". A truly legendary band and a memorable performance. After their concert I visited their merchandise, like many other fans did, bought some CDs and their t-shirt to remember their powerful live.
In a hurry as always, I had arranged to meet some friends to my favorite Absinth corner at Agra and in the company of the lost twin brother of Brendan Perry (😊) for our last absinth portions and farewells. I really wanted to see Lacrimosa for at least 2-3 songs at Agra. Rainy weather again, I made it to the venue running and trying to get in front of the stage for some photos, since time has long passed for me to get in the pit. Tilo Wolff and Anne Nurmi were awesome as always, beautiful and theatrical in their performance. Agra was literally full. I follow Lacrimosa, I was moved by the music and style, since I entered the goth scene as a teenager. "Angst" that was released in 1991 was one of the first cds I bought as a goth. Lacrimosa we could say is a band of symphonic and gothic metal music with classical instruments, using German lyrics for their songs. Anne Nurmi was a member of another cult goth Finnish band, Two Witches, before joining Lacrimosa. They still fill huge venues with their performances, they are unique and still fantastic. Fortunately, I had time for two beloved tracks, like" Der Morgen Danach" und "Raubtier". Enchanting.
The festival day was of course not over yet. George already headed for our second dj set at Kätz club and I took my spot at the pit for the midnight special act, the mighty Gary Numan; a new wave legend and pioneer in so many ways. He started out in 1977 as front man for the new wave formation Tubeway Army, who created the unique gem album Replicas. The announcement of his participation in the festival's roster was regarded a big advantage for the festival, he has many faithful followers for decades in the goth subculture and he has not performed extensively in the last few years. The audience was diverse, different ages and styles, but they all had in common Mr. Numan and they were present to enjoy this amazing show. The style was mainly industrial rock, very interesting and artistic, but at the same time I must sincerely say as a fan and eternal 80s lover, I was somehow disappointed not to hear electronic tunes and his songs in the classic way, since I had not seen him live before. His set started with his new single "Intruder", he was very theatrical and so perfectionist in his movement, determined to deliver a performance for us to remember. We also listened to "Halo", "Love Hurt Bleed", "Metal", "Pray for the Pain you Serve" and I stayed for "Cars" too. I had to live for our club dj set night, so I didn't listen to "Are Friends Electric" that I wanted too, but as said it was also in an industrial rock style too, as the rest of the show.
Such an incredible opportunity and perfect choice for the midnight special on the third, purely magic day of WGT!
I rushed to Kätz ex Kobra Keller club venue for our second guest dj set for WGT 2022 too, as we did last year, for the rest of the night, with a fun, kind and great guy and collaborator, dj Porno. It was more of a club venue, it was packed with WGT visitors and everyone was dancing, once more a great dj set for us and club celebration WGT night. We mainly spinned ebm, industrial and synthpop, but later on we played some dark wave and neofolk tunes too.
On Monday, we had to return to our base in Athens due to work obligations, so that was all folks for the first after pandemic much awaited WGT gathering!
I can't emphasize enough, that we were so thrilled to be back at such a well-organized event and to present it for all of you at our web magazine. Several gigs we would like to have seen, but really happy and content for all the material we gathered to share through Electrowelt. The biggest dark gathering of the scene, excellent organization, fans from all over the world and of all kinds of music' united, respected each other and had fun. Great sound and concerts, big event diversity for all tastes, in the unique way of WGT.
We hope that you will find our media coverage interesting and informative, we tried as always to cover the festival for you guys in the best way possible and with the means available. Your feedback and comments are always welcomed. You know where to find us!
Thank you WGT, for sticking to quality with always really unique band selections.
We are already looking forward to the 30th WGT special edition and celebration of the black gathering next year, which will take place from May 26th to May 29ST 2023.
Please check out our Electrowelt.com YouTube channel https://www.youtube.com/@ElectroWeltonlinemusicmagazine/videos with wonderful videos from all of our favorite bands, the festivals and concerts we visit and of course our extended photo gallery and Event Photo Gallery!
Take Care and Control.
See you all again in dark Leipzig next year for the much awaited 30 year celebration of the No1 dark festival in the scene, WGT!!!