DIE FORM "TEARS OF EROS" VINYL Artist Edition Pre-orders RELEASE DATE: July 16th, 2018 You can pre-order the Artist Edition exclusively to BAIN TOTAL : baintotalwanadoofr or BIG CARTEL : https://bit.ly/2K9qRsy​ Dear friends, We are very excited to present the "TEARS OF EROS" mini-album from 1993 for the first time on vinyl, including the original songs plus a...
EISBRECHER Ewiges Eis (Sony Music/RCA) VÖ: 05.10.2018 "Ob du einen großen Traum träumst oder einen kleinen. Es kostet das Gleiche." (Donald Duck) "Am Anfang war das Eis! Als wir erkannten, dass es weit und breit um uns herum die Musik nicht gab, die wir im Jetzt und Hier hören wollten, beschlossen wir sie...
TINDERSTICKS - Live at the Acropolis! Saturday, July 13th, 2019 Odeon of Herodes Atticus Ένα από τα πιο σημαντικά και αγαπημένα στο ελληνικό κοινό βρετανικά συγκροτήματα, οι...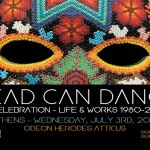 Dead Can Dance – Live in Athens Wednesday, July 3rd 2019 Odeon of Herodes Atticus Lisa Gerrard & Brendan Perry: ''Dionysus'' Τετάρτη 3 Ιουλίου 2019 - Ωδείο...