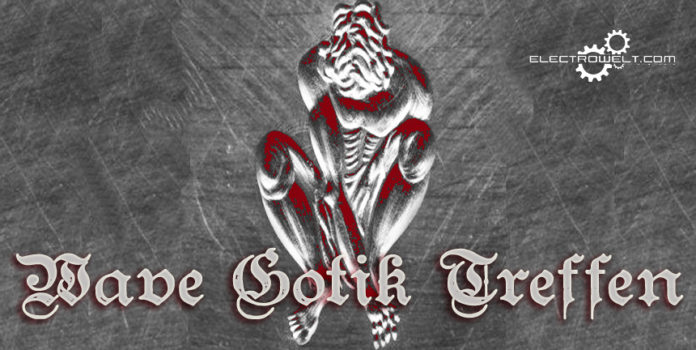 WAVE – GOTIK – TREFFEN 01-05/06/2017
REVIEW by Malice F. & George P. for Electrowelt.com
Electrowelt.com keeping up with its tradition this year too presents the most important moments of the 26th Wave-Gotik-Treffen festival in Leipzig, Germany. For the 26th consecutive year, at Whitsun, the biggest worldwide music -and not only- gothic festival took place in Leipzig and managed to gather around 21.000 fans from the gothic scene from all over the world, making it again THE biggest international gathering of the dark family. Furthermore, the festival occurred at more than 50 venues all over the city, more than 200 bands performed, hundreds of gigs, Gothic music: from Electro-Pop to Goth-Metal, from EBM to Neofolk, from medieval music to Industrial, plus a fully diverse program, like for example the "Machina Nostalgica" exhibition at Promenaden Hauptbahnhof with the artists being on site, which was extremely interesting, the art exhibition at the AGRA café with art works by Sarah Horwath, Jea Pics, Luise Läßig, Alexander Schlesier, Leander Wennige and of course like every year there were readings held by various authors like Christian von Aster, Mark Benecke, Lydia Benecke, Markus Heitz, as well as movie presentations at the cinema and the classic autograph sessions. The WGT program also included beautiful classical music again, such as operas, chamber music, choral and organ concerts. The festival presented authors reading and unusual theatre, cinematic performances too. Art and culture lovers had the chance to admire the historical buildings of the Renaissance, Baroque and Jugendstil (Art Nouveau) eras: the entrance to several of Leipzig's museums was again free of charge for WGT-guests to visit.
The visitors painted once more the city black and had the chance to attend the impressive medieval market and the pagan village at Heidnisches Dorf, many parties at the wonderful Moritzbastei, Agra and celebrate the scene until the early hours of the morning.
The weather overall helped the visitors who wanted to camp at the Agra festival campsite with the Obsorgekarte. Free use of all public transportation for all WGT visitors really helps too, as long as they present their WGT bracelet or band in German, which also applies for all WGT concerts, performances and all other WGT scheduled shows. So convenient, instead of buying tickets all day long, so that you can attend concerts! We especially found extremely useful the WGT special tips, that's one of the various reasons we love the WGT festival: apart from famous bands of the scene, the WGT program included several hidden treasures, although less known bands, they delivered outstanding concerts. So before visiting the WGT, it's worthwhile to take a closer look into the program and to listen to some sample tracks of the artists you don't know.
Thursday 01/06/2017
WGT EBM warm up XII : Zweite Jugend, High Functioning Flesh, Schwefelgelb, A Split Second
by George P & Malice F
We were lucky enough this year to arrange things at work and visit Leipzig from Thursday, in order to catch the opening festivity events of the WGT 2017. The weather was extremely good, it reminded us of Greece weather, sunny and warm, and so we started up early to attend the warm up event at the wonderful venue of Felsenkeller. There was another warm up event worthwhile to visit at Moritzbastei, with Electro All Star legends like Adrian Hates (Diary of Dreams), Daniel Myer (Haujobb, Architect), Dirk Ivens (Dive), Dennis Schober (Solitary Experiments), Boris May (Klangstabil), but unfortunately due to concurrent time performances and distance of venues we had to chose one and decided upon the warm up event which paid tribute to old school EBM. The venue, although it was Thursday, was crowded and everyone attending there was in the mood for party. The bands were great; the performances were intense and urged us to dance all night. We saw bands like Zweite Jugend, High Functioning Flesh and Schwefelgelb live for the first time and they were awesome, WGT gems as usual. We caught up with our t shirts and vinyl purchases, again as usual at the wonderful WGT! It was time for the most anticipating act for us, the legendary Belgians, A Split Second. An old school Ebm band from Belgium, that says a lot, they started off in 1985. An overpowering blend of digital pulses, distorted guitars and intriguing vocals. Definitely a performance that cannot be ignored, thriving on experiment and emotion. It was out second time catching them live, they didn't disappoint us. Their set list was powerful, we listened to "Rigor Mortis", "Burn Out", "Firewalker" and of course "Mambo Witch" and the anthem "Flesh".
Great and promising start WGT!
Friday 02/06/2017
Der Blaue Reiter, Jarboe, In Gowan Ring, Devilment mit Dani Filth (Cradle of Filth), Amanda Palmer and Edward Ka-Spel
by George P & Malice F
After all the necessary procedure, our first gig was the neofolk act Der Blaue Reiter at the Volkspalast Kuppelhalle. The Catalan apocalyptic ambient martial music project was founded by Sathorys Elenorth in 2005 and he performed live with Lady Nott. At its present line up, she was replaced with Cecilia from Sweden, who is a member of Arcana and Sophia. The performance on stage and interaction with the audience was extremely good and the venue was full, although the early gig time.
We had the chance to catch just a few songs "The Beginning of the End", "World Domination", "The Fall of Light", as it was time to live for Schauspielhaus to see Jarboe featuring P. Emerson Williams on guitar in an acoustic concert. What can I say about her? I am a huge fan of her voice, performance and artistic value since her time with her other half, Michael Gira, in Swans. The American singer – songwriter and artist has been performing for over than 30 years and has a wide range of music and works to present, so in order to be able to appreciate her, you have to listen to different kinds and eras of her music, as she has never been afraid to experiment with her voice and sounds. Her voice and performance was astounding, the wonderful venue was a good fit for her live concert. Highlight was her cover "I put a Spell on you". Unfortunately, we didn't listen to any songs from Swans.
We stayed for a few tracks for In Gowan Ring. Folk traditional music at its best from an artist, B' ee, who composes folk acoustic music over 20 years. They performed on stage with a 6-piece ensemble with violin, contra-bass, organ, string drones, bass lyre, percussions and multiple harmonies.
It was time to leave again for the venue of Agra and Dani Filth (Cradle of Filth), as I was curious enough to see his project. After the necessary Absinth potions at the counter at Agra garden, we headed in the venue. I expected to see a band similar to Cradle of Filth, but the only thing in common was Dani Filth's statement high pitched shrieks. A well experienced musician and performer, he gave a great performance, mainly they gave a metal show, it was a good gig, not my cup of tea, the audience loved it. Highlights for me were "Full dark, no Stars" and "Hitchcock Blonde".
The last concert of Friday was the midnight special performance of Amanda Palmer from Dresden Dolls & Edward Ka-Spel from The Legendary Pink Dots. One of the many reasons I love and respect the Wave Gotik Treffen festival: you have the chance as a visitor to catch acts that are legendary, as well as smaller gems that deserve our attention. They were accompanied on stage by violinist Patrick Q. At the beginning, Amanda was troubled by some problems with her electric piano pedal, but their bandmate Patrick Q covered in the most charming way the void. The extended pause, while the stage crew was resolving the issues, only showed the top quality, professionalism and great sense of humor of the artists. They mainly performed songs from their common album "I can spin a rainbow", which of course afterwards I went immediately at the merchandise stand and bought it, as well as songs from Dresden Dolls, like "Mrs O", "Coin Operating Boy" and "Half Jack" at the end, and from Legendary Pink Dots there were "The Unlikely Event" and the wonderful "The Lovers". Very dark melodic and in a fairy tale mood with the magical voice of Amanda Palmer were also "The Shock of Contact" and "Rainbow's End", great note to the night was also "Pulp Fiction". Delivering an absolutely atmospheric show, they were perfect for the midnight special show at Agra. An excellent and highly appreciated show, although Mrs Palmer had some further adventures of her own before her performance at Agra, as she stated on her FB page:
"into the emergency room in leipzig at 6pm, needles and blood, out at 11pm, on stage world's biggest goth festival at 12:30am until 2am with a broken fucking keyboard (we fixed it), left my bleeding heart up there. Now YOU tell me who's goth as fuck (nothing serious, mystery infection, many antibiotics)".
Saturday 03/06/2017
Saigon Blue Rain, Soviet Soviet, dj set @Darkflower club
by Malice F
For 3rd consecutive year, we had the honor and enormous pleasure to dj at the legendary Darkflower club and participate to the WGT festivities. Our dj set lasted all night beginning at 21:00, so there was little time for concerts. We selected to see live two relatively new bands that stood out and are part of the post punk and 4AD revival trend. Rainy today, first band at Altes Landratsamt was the French duo Saigon Blue Rain.
They were formerly known as Stupid Bitch Reject, the wave band from Paris consists of Franck and Ophelia, plus their bassist Gilles on stage. They appeal mostly to fans of Cocteau Twins, Lycia, early Dead Can Dance or even Miranda Sex Garden to name but a few, but also to those who dig acts like Chelsea Wolfe or their fellow natives Alcest. The atmosphere was very dark to our liking and the venue attendance was very satisfactory, although it was still early. I liked them a lot, their sound seems most influenced by 80s dark electro/pop sounds, but their track "Whispering Eyes" is a proper example that Saigon Blue Rain can be quite modern in their sound and not stick to a certain pattern of cold wave, shoe gaze or pop. They try to be themselves and just make good music, as they state. So if you are a fan of The Cure, The Chameleons don't miss them. Highlight for me was "Goodbye Horses by Q Lazzarus that was made known as the soundtrack of the hit movie thriller Silence of the Lambs. The cover of Psyche made it more popular in our scene.
Next gig for us was Soviet Soviet at Taubchenthal. An Italian band that many talk about them, so we were curious enough to catch them live. Andrea Giometti, the front man and his band mates had a lengthy sound check that could fool someone to think that the gig had started! They started off hesitantly, their lack of experience performing live was a little bit obvious and cute I would say. The audience after the 3rd song filled the venue and they were all dancing to their songs. The band relaxed more and they were stronger at their performance, as the fans cheered and danced. Their sound was impressive and powerful, modern post punk at its best, as well as their stage performance and eccentric dance and pounding movement of the front man. We listened among others to "1990", "Ecstacy", "Blend", "Pantomime".
Quickly we left for our dj set (dj George P. & djane Malice F.) at Darkflower! Great crowd turn up, many many WGT enthusiasts and visitors danced the night away with us, gave us their requests and love. The party heated up around midnight, we got in touch with dear friends from all over the world that we meet and hang out every year at the WGT. The music we played was mainly EBM, Industrial and Gothic, Dark wave near the end. We would like to thank from heart all of you, as well as the management of Darkflower, for your kind words and support. As result, we are thrilled to dj again at the next WGT edition too. So great memories.
Sunday 04/06/2017
Red Cell, Decoded Feedback, The 69 Eyes, The Mission, Skinny Puppy
by Malice F & George P
We started our concert day at Kohlrabizirkus, I never but never lose a Decoded Feedback gig. So I was there early and had the chance to see the music act before them, Red Cell. To be honest, I wasn't familiar with their work, nice and pleasant future pop music, especially liked by German fans. It was time for the Canadian electro industrial duo, Decoded Feedback.
With a career of more than 25 years, their sound and stage performance are a must hear and see. Marco Biagiotti was very energetic on stage and connected great with the audience. His experience was clearly visible. His music partner at the keyboards was participating actively. We had a blast. Everyone in the venue danced their a.. off! Super amazing setlist like "Duality", "Breathe", "Dark Passenger", "Bio Vital", my special favorite "Phoenix". Their new song "Waiting for the Storm" is very good. Marco had a surprise for us: for the track "I m the Night" Ronny Moorings from Clan of Xymox joined Decoded Feedback on stage and performed guitar!
Change of venue and attitude, we met with my other significant half at Agra- we have to split the concerts, so that we can make our report of the WGT festival as interesting and
The 69 Eyes from Finland were performing, Goth'n'Roll at its very best! More than 25 years have gone since they presented themselves to us. I remember the very first time I saw Jyrki 69 live 14 years ago. He definitely knows how to start a party and star in it. The atmosphere was awesome; everyone was having fun and dancing to the songs. Their dark lyrics are complimented by Jyrki's gloomy voice in the most perfect way possible. They nailed it. "Feel Berlin", "Never Say Die", "The Chair" and "Brandon Lee" were absolutely amazing.
At about 22:20 it was time for The Mission to appear on stage. They definitely need no introduction, burning the fields since 1985. After Wayne Hussey and Craig Adams left the Sisters of Mercy, they released their debut album "God's Own Medicine" and countless hit singles later on. Newcomer artists should pay attention to them and see how it's done. It was dark and foggy and an extensive intro was heard as the band took the stage, Craig Adams on bass, Simon Hinkler on guitar, guitarist and vocalist Wayne Hussey, Mike Kelly on drums. They were joined by singer Evi Vine for background vocals. They opened their show with the legendary "Beyond the Pale". Their single "Met-Amor-phosis" from their latest record "Another Fall from Grace" followed. Highlights were also the legendary "Severina", "Wasteland". I lost my mind when the first tunes of "Marian" (Sisters of Mercy) were heard. They left us with the best and stronger impressions with "Deliverance". Agra Halle was literally on fire!
Fantastic sound, Wayne Hussey at his best, sipping red wine and performing in an emotional and unique way. A real and legendary headliner, I will cherish this performance, thank you WGT. After some well deserved break and some chatting with friends at Agra café, we took our places as it was about time around 1:00 for the midnight special of Sunday to begin.
After a long hiatus of 7 years away from Europe, Skinny Puppy were about to start their only German show for 2017. The venue was again full, although it was late. If anyone had the chance to see a Skinny Puppy performance, knows for certain that it cannot be missed. From their start in the early eighties, Skinny Puppy as live performers have always been more than just a live gig. They use all modern technology means with stunning visuals and video projections and impressive stage setups. It's arguably one of the most theatrical shows you will ever get to see; singer and performer Nivek Ogre furthermore switches roles and even costumes and tells a story from song to song.
It's no accident that we are talking about one of the most influential industrial experimental band in the scene. Nivek Ogre, cEvin Key and Mark Wahl, Skinny Puppy member since 2003, took the stage during a long intro which was the opening track "Jahya" from their 1996 album "The Process". What followed next was pure Skinny Puppy creation and a sight for sore eyes for us photographers! Strange creatures walked up and down the stage stabbing each other with knives and gigantic syringes under a green and blue lightshow. With a real mind blowing performance, a dark industrial show at its finest, Skinny Puppy captivated the WGT audience.
We were treated to songs like "Dogshit", "Tin Omen", "Fascist Jock Itch", "Death", the super track " Worlock" and " Killing game". They performed the classic "Assimilate", but unfortunately not my favorite "Smothered Hope". They came back for the encore with "VX Gas Attack" and "Candle".
What a way to close our night. We were left speechless afterwards, just contemplating with ourselves what we had just witnessed.
Monday 05/06/2017
Cabaret Voltaire, Suicide Commando
by Malice F
The last day of the festival was cloudy and about 24 degrees – just right for us. We wanted to have the chance and make the most of the artistic opportunities that the WGT offers so widely to its visitors. So we first visited the exhibition "Popart trifft Surrealismus" von Michael Schreckenberger and Martin Hermeling at Atelier Schreckenberger and then the exhibition "Creators of Legends" at Promenaden Hauptbahnhof/ Historischer Speisesaal, that paid tribute to a great and favorite artist of ours, H.R. Giger.
Artists from all over the world were involved in this exhibition; works by Ingo Schleutermann, Janine Werner and Marcel L'amour were displayed. "Creators of Legends" is scheduled to travel around the world. Before the exhibit was shown at the WGT in Leipzig, it was exposed in Mexico City and then in Switzerland at the "Museum HR Giger" in Gruyeres, which was our next travel destination as we are Giger avid fans. Further exhibits are planned for France (Paris and Nantes), Spain (Barcelona), Italy (Milan), and the USA (New York).
We had to choose wisely for the concerts to see on the last day of WGT for 2017, a task that proved to be difficult. B-Movie and Cabaret Voltaire had their shows simultaneously on two different locations. We opted for Cabaret Voltaire at Volkspalast Kuppelhalle, since it was a band that we definitely wanted to see and a not so often seen gig, we usually end up there for the farewell neofolk party there. It was the only German performance of 2017 for Cabaret Voltaire; we were very eager for this concert, it would be a reason for us to travel from Greece to see the legendary English band and pioneers of industrial music. The performance involved an elaborate audio visual spectacle; mainly we are talking about Richard H. Kirk and his equipment, sounds accompanied by projections on 3 huge screens and disturbances in between with sudden noise bursts. We could barely see the man behind the performance and it was not the live concert we anticipated with the sound of Cabaret Voltaire tracks that we know and love and wanted to listen to live. So we caught some tracks and then slight change of plans, we needed more for our closing WGT day. So we left in a hurry to see Suicide Commando at Agra. The Belgian electro industrial solo act was founded back in 1986 and of course we are talking about a gig that never disappoints EBM fans. But this fact has its other side to it, there are no particular surprises, if you are in the scene so long and have seen Mr Van Roy a number of times. I personally prefer his vintage sets with darker and not so trendy music hits that SC has delivered over the last decade. The venue was packed, energy of the artists and audience at its highest level, we literally had a blast. He was accompanied on stage by his usual live contributor, Torben Schmidt. The sound was awesome, the lightshow and the projections were impressive too. All and all, a great way to say goodbye to WGT 2017. Highlights were "Dein Herz, Meine Gier", "Cause of Death: Suicide", "Bind, Torture and Kill" and of course "Hellraiser" at the sound of the EBM anthem everyone was ecstatic and ready to party hard! After the end of the concert, we had the chance to talk with some of our friends who attended the whole show and hang out at the Agra cafe. We headed back to Volkspalast for our annual ritual farewell WGT party, with apocalyptic folk, ritual music, the best way for us to say goodbye. It was not as successful as previous years, not so many visitors attended, so we stayed for a little bit to say goodbye to our WGT friends.
To sum up, excellent organization, fans of all kinds of music respected each other and had fun. Great sound and concerts, big event diversity for all tastes, in the unique way of WGT. I personally want to say farewell and goodbye until next year's WGT to the kind gentleman who looks a lot like Brendan Perry at the Absinth counter! Thank you for all the great Absinth combinations and spirits.
Leipzig and its citizens gave a big and warm welcome for once more to all us black dressed and weird creatures! We are already looking forward to the 27th edition of the black gathering next year, which will take place from May 18th till 21st.
See you all again in dark Leipzig next year!