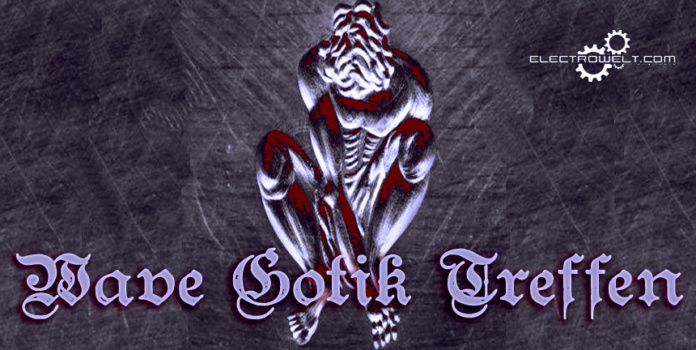 The Wave-Gotik-Treffen 2019 will be from: 
07th June 2019 until 10th June 2019 in Leipzig/Germany.
FIRST BANDS CONFIRMED: 
A Slice Of Life (B) 
Alien Vampires (GB) 
Am Not (GB) 
And The Golden Choir (D) 
Automelodi (CDN) 
Battle Scream (D) 
Bragolin (NL) 
Camerata Mediolanense (I) 
Cradle Of Filth (GB) 
Creux Lies (USA)
Coppelius (D)
Escape With Romeo (D) 
Evi Vine (GB)
Empathy Test (GB)
Fehlfarben (D) perform "Monarchie und Alltag" 
Freakangel (EST)  
Geometric Vision (I) 
Hämatom (D) 
Hante. (F) 
In2TheSound (GB/D) Mike Dudley & The Convent play The Sound 
Job Karma (PL) 
Jonathan Bree (NZ) 
Jungstötter (D) 
King Dude (USA) full-band show 
Kontravoid (CDN) 
Kælan Mikla (ISL) 
Lene Lovich Band (GB) exclusive German festival show celebrating the 40th anniversary of the album "Stateless" 
Megaherz (D) 
Michael Cashmore & Shaltmira (GB/LT) 
Meta Meat (F)
M.I.N.E (D)
Nachtmahr (AT) 
Nitzer Ebb (GB) 
October Burns Black (GB) 
Pleasure Symbols (AUS) 
Sad Lovers And Giants (GB)
Sally Dige (DK/CDN) 
Sebastian Fitzek (D) reading "Der Insasse" 
Selofan (GR) 
St. Michael Front (D) 
System Noire (D)
Schattenmann (D)
The Foreign Resort (DK) 
The Moon And The Nightspirit (H) 
The Creepshow (USA)
Unto Ashes (USA) 
Urze De Lume (F) 
Vowws (AUS) 
Velvet Acid Christ (USA)
Witt (D) 
Das Ich (D)
The Cassandra Complex (GB)
Void Vision (USA)
Eggvn (N)
She Pleasures Herself (P)
Maerzfeld (D)
X-RX (D)
A Spell Inside (D)
Inkubus Sukkubus (GB)
Grausame Töchter (D)
Schandmaul (D)
Intent:Outtake (D)
Gitane Demone Quartet (USA)
OUL (D)
Artwork/Belladonna (D)
The Bellwether Syndicate (USA)
Karies (D)
Scarlet Dorn (D)
Darkcell (AUS)
Autumn (USA) – first European show 
Agonoize (D)
Tamaryn (USA)
Absurd Minds (D)
Ground Nero (B)
Soman (D)
Cold Showers (USA)
Lord Of The Lost (D)
Still Corners (USA)
Haujobb (D)
Dystopian Society (I)
Shadow Project 1334 (USA) – First show of Eva O, William Faith And Stevyn Grey in 27 years
Goethes Erben (D)
Killus (E)
Fliehende Stürme (D)
Omnimar (RUS)
Synthattack (D)
Coph Nia (S)
Dear Deer (F)
UK Decay (GB)
Zweite Jugend (D)
Important announcement regarding the "low emission zone" in Leipzig: 
Since the 1st of March 2011 about 60 percent of the urban area of Leipzig has been declared a "low emission zone" to protect the environment from air pollution.
Therefore within this zone only vehicles which have an official green sticker placed on the front windscreen are allowed. To obtain such a sticker, the vehicle must meet certain standards (i.e. age, type of fuel, diesel particulate filter etc.). This regulation is also valid for foreigners who travel to Leipzig by car.
If you cannot show a valid sticker during a traffic check, you will have to pay a fine of 80,- Euros.
The stickers are available for about 5,- € at most car repair shops in Germany or via internet, e.g. the website of TÜV-Nord (6,- €):
ATTENTION: The agra-area with parking lot and camping site can be reached via A38 / B2 without having to enter the "low emission zone"! (Please see the map of the zone below) That means it is possible for visitors to park their vehicle at the agra-parking lot (you will need a WGT parking ticket in this case, which can also be obtained on location) and reach all other locations by public transport.
Please use the following links to find more information:
Website of TÜV-Nord:
WGT 2019 Ticket Order
As soon as tickets will go on sale, you will find a form to order tickets online at this page. Please be patient until then…