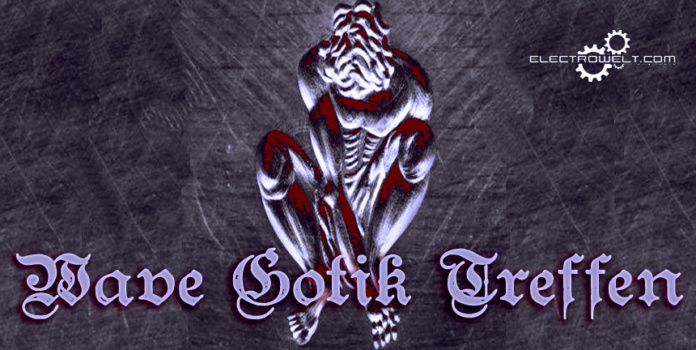 WAVE – GOTIK – TREFFEN 2019: dark-romantic celebrations every year at Whitsun in Leipzig – Germany.
Festival Preview – by Malice F.
The biggest worldwide music -and not only- gothic festival is back for the 28th consecutive year.
There is not a single fan of the new & dark Wave/ EBM/ Industrial/ Neofolk /Gothic/ Post Punk scene that hasn't heard of and furthermore hasn't dreamt of visiting it, at least once.
The Wave-Gotik-Treffen 2019 will be from: 
07th June 2019 until 10th June 2019 in Leipzig/Germany.
CONFIRMED BANDS: 
A Slice Of Life (B) 
Alien Vampires (GB) 
Am Not (GB) 
And The Golden Choir (D) 
Automelodi (CDN) 
Battle Scream (D) 
Bragolin (NL) 
Camerata Mediolanense (I) 
Cradle Of Filth (GB) 
Creux Lies (USA)
Coppelius (D)
Escape With Romeo (D) 
Evi Vine (GB)
Empathy Test (GB)
Fehlfarben (D) perform "Monarchie und Alltag" 
Freakangel (EST)  
Geometric Vision (I) 
Hämatom (D) 
Hante. (F) 
In2TheSound (GB/D) Mike Dudley & The Convent play The Sound 
Job Karma (PL) 
Jonathan Bree (NZ) 
Jungstötter (D) 
King Dude (USA) full-band show 
Kontravoid (CDN) 
Kælan Mikla (ISL) 
Lene Lovich Band (GB) exclusive German festival show celebrating the 40th anniversary of the album "Stateless" 
Megaherz (D) 
Michael Cashmore & Shaltmira (GB/LT) 
Meta Meat (F)
M.I.N.E (D)
Nachtmahr (AT) 
Nitzer Ebb (GB) 
October Burns Black (GB) 
Pleasure Symbols (AUS) 
Sad Lovers And Giants (GB)
Sally Dige (DK/CDN) 
Sebastian Fitzek (D) reading "Der Insasse" 
Selofan (GR) 
St. Michael Front (D) 
System Noire (D)
Schattenmann (D)
The Foreign Resort (DK) 
The Moon And The Nightspirit (H) 
The Creepshow (USA)
Unto Ashes (USA) 
Urze De Lume (F) 
Vowws (AUS) 
Velvet Acid Christ (USA)
Witt (D) 
Das Ich (D)
The Cassandra Complex (GB)
Void Vision (USA)
Eggvn (N)
She Pleasures Herself (P)
Maerzfeld (D)
X-RX (D)
A Spell Inside (D)
Inkubus Sukkubus (GB)
Grausame Töchter (D)
Schandmaul (D)
Intent:Outtake (D)
Gitane Demone Quartet (USA)
OUL (D)
Artwork/Belladonna (D)
The Bellwether Syndicate (USA)
Karies (D)
Scarlet Dorn (D)
Darkcell (AUS)
Autumn (USA) – first European show 
Agonoize (D)
Tamaryn (USA)
Absurd Minds (D)
Ground Nero (B)
Soman (D)
Cold Showers (USA)
Lord Of The Lost (D)
Still Corners (USA)
Haujobb (D)
Dystopian Society (I)
Shadow Project 1334 (USA) – First show of Eva O, William Faith And Stevyn Grey in 27 years
Goethes Erben (D)
Killus (E)
Fliehende Stürme (D)
Omnimar (RUS)
Synthattack (D)
Coph Nia (S)
Dear Deer (F)
UK Decay (GB)
Zweite Jugend (D)
Light Asylum (USA)
Carach Angren (NL)
Henric De La Cour (S)
The Lust Syndicate (I)
S.K.E.T. (D)
Tempers (USA)
Edo Notarloberti (I)
Orange Sector (D)
Wolfheart (FIN)
Murder At The Registry (D) exclusive 30th anniversary show
Christian Death (USA)
Forced To Mode (D)
Darkher (GB)
Ashram (I)
Phasenmensch + ICD-10 (D)
Cervello Elletronico (USA)
Parade Ground (B)
Logic & Olivia (D)
Luigi Rubino (I)
Winterkälte (D)
Janus (D)
Rhys Fulber (CDN)
Welle:Erdball (D)
Kellermensch (DK)
Laura Carbone (D)
XIV Dark Centuries (D)
Hell-O-Matic (D)
Cubanate (GB)
Golden Apes (D) – 20th anniversary show feat. Steve Hewitt (LOVE Amongst Ruin, ex-Placebo)
Cat Rapes Dog (S) – Exclusive German reunion show
Faun (D)
Machinista (S)
Tanzwut (D)
The Adicts (GB)
Friends Of Gas (D)
Psyche (CDN)
Christine Owman (S)
Erik Cohen (D)
Arhai (GB)
The O'reillys & The Paddyhats (D)
London After Midnight (USA)
Near Earth Orbit (D)
Sono (D)
Empirion (GB)
In Strict Confidence (D)
Knasterbart (D)
Hell Boulevard (CH)
Sonorus7 (D)
La Scaltra (D)
Sanguis Et Cinis (D) – Exclusive 20th anniversary reunion show
Mila Mar (D)
Solar Fake (D)
Saeldes Sanc (D)
Hackedepiciotto (D/USA)
Seadrake (S/ZA/D)
Helrunar (D)
Fuchsteufelswild (D)
Welicoruss (RUS)
Priest (S)
Schwarzer Engel (D)
White Lies (GB)
Tangerine Dream (D)
New Model Army (GB)
Patenbrigade:Wolff (D)
The Soft Moon (USA)
Bannkreis (D)
Double Echo (GB)
Ganaim (D)
Banane Metalik (F)
Freunde Der Italienischen Oper (D)
The Church (AUS) – exclusive summer festival show 2019
Faelder (D)
Spit Mask (USA)
Eluveitie (CH)
Sick Man (D)
Human Tetris (RUS)
Die Nerven (D)
Xentrifuge (USA)
Other Day (D)
Imperial Black Unit (F)
Der Ringer (D)
Folknery (UA)
Radioaktivists (D)
Batushka (PL)
Lydia Benecke (D)
Markus Heitz (D)
Christian Von Aster (D)
Norman Liebold (D)
Benjamin Schmidt (D)
Klaus Märkert & The Eerie Glam Girls (D)
Männerchor Leipzig Nord (D)
Capella Fidicinia (D)
Gewandhausorchester (D)
Gewandhauschor (D)
Ballett, Chor Und Orchester Der Musikalischen Komödie (D)
Chor Der Oper Leipzig (D)
Hubertus Schmidt (D)
Arno Krokenberger (D)
Ivo Nitschke (D)
Unassisted Fold (D)
Trio Viz-À-Vis (D)
Lukas Dreyer (D)
Moritz Eggert (D)
Johannes Krampen (D)
Shir-Ran Yinon (D)
Guy Figer (USA)
Nathan Giem (H)
Anna Pelzser (H)
Yotam Baruch (ISR)
Ilan Bendahan Bitton (D)
Susanne Krassa (D)
Johanna Burkhardt (D)
Clemens-Peter Wachenschwanz (D)
Theaterpack (D)
Bianca Froese-Aquaye (D)
Midgards Boten (D)
Claudia Gräf (D)
Axel Thielmann (D)
Tilo Augsten (D)
Bremer Jugendkantorei (D)
Junges Kammerorchester Der Musikschule Bremen (D)
In Extremo (D)
Argentum Ferrum (D)
Jakuzi (TR)
Inade (D)
Morlas Memoria (D)
Thy Antichrist (CO)
Nachtwindheim (D)
Waldträne (D)
Dk Zero (USA)
Hochmair & Die Elektrohand Gottes (A/D)
Ÿurod (RUS)
Twenty-seven years ago, two Gothic people from Leipzig had an unusual idea: They didn't want to create yet another dark music festival, but rather a supra-regional gathering of like-minded fellows for relaxed meeting, chatting and celebrating. When the 1st Wave-Gotik-Treffen took place in 1992 at the edge of Leipzig with about 2,000 visitors and just a handful of bands, it is unlikely that anyone imagined that within a few years the WGT would become the largest meeting of Gothic people in the world, taking possession of a whole city every year at Whitsun.
Now, the WGT exists for more than a quarter of a century…From June 7th to 10th, again more than 20,000 Goths from all over the world are expected to come together again in Leipzig, Eastern Germany to celebrate the Wave-Gotik-Treffen as THE international gathering of the dark family.
All over the city, there will be about 200 bands performing, projects and single artists covering the whole wide range of Gothic music: from Electro-Pop to Goth-Metal, from EBM to Neofolk, from medieval music to Post Punk.
Apart from famous bands of the scene, you are invited for new discoveries (take a look at page 5 of the WGT preview titled WGT special tips, it will worth your while) with several less-known real underground bands or artists from the edge of the Gothic music universe. The concerts and events take place at more than 40 venues spread throughout Leipzig, for instance in the vaults of the Moritzbastei, in the splendid cupola hall of the Volkspalast, in the neo-gothic church Heilandskirche and in the historical public bath Stadtbad, as well as in large concert halls.
The WGT program will also include beautiful classical music again, such as operas, chamber music, choral and organ concerts. From its beginning, the Wave-Gotik-Treffen has been much more than a music festival: its' guests may step back to the romantic atmosphere of ancient times at the medieval market place at the Pagan Village (Heidnisches Dorf). We will present authors reading and unusual theatre, cinematic performances will take place. People in historic clothing will gather for a Victorian Picnic in a park.
For four days a large hall at the agra-Messepark will be transformed into the biggest Gothic-wares marketplace in the world. In numerous clubs DJs from all over the world will invite you to dance until dawn (the Electrowelt team, Malice F & George P. will be djing again at the WGT festival, at Moritzbastei, we hope to see you and catch up again!). There will also be a large fetish party where entrance is only possible by following a strict voluptuous dress code. A stroll through the winding passages of city centre of Leipzig with its historical buildings of the Renaissance, Baroque and Jugendstil (Art Nouveau) eras is especially worthwhile for art and culture lovers: the entrance to several of Leipzig's museums is again free of charge for WGT-guests.
The city of Leipzig and its' inhabitants are extremely friendly, as well as familiar with the Festival and its' visitors. Οver the last two decades – there are no longer any prejudices and the gothic guests are very welcome here. The most fascinating aspect of the Wave-Gotik-Treffen is surely its unique magic atmosphere that covers the whole city. More than 20.000 Goths from all over the world celebrate their gathering in a peacefully relaxed manner, turning Leipzig into a diverse wave of black.
Cheap and entertaining accommodation is available at the huge Treffen camping ground. To enter, you need a special ticket (called Obsorgekarte). Public transport in the city is free for all WGT-guests from Friday morning until noontime Tuesday.
-Camping:
For camping you need a special ticket called Obsorgekarte (available for 25,- €) that allows you to stay at the Treffen- Campground (agra-fairground) from June 6th to June 11th.
-Parking:
For car parking at the Treffen-area you have to purchase a parking vignette for 15,- € (including advance sale charges). Parking at the Treffen-area (agra- Messepark) is definitely not possible without a parking vignette.
– Tickets:
4-Day-Tickets for all events within the 28th Wave-Gotik-Treffen Whitsun 2019 are available for 130,- € each in advance ticket sale. The Treffen-Event-Ticket includes the free usage of all public transport within Zone 110 of the MDV (Mitteldeutscher Verkehrverbund), this includes all trams, buses and S-Bahn lines except special lines e.g. sightseeing tours). Detailed information (e.g. period of validity) is to be found on the reverse side of the ticket.
All tickets can be ordered via http://www.wave-gotik-treffen.de/english/

If you are travelling to the WGT for the first time, you can find lots of useful information for planning your trip on: www.sadgoth.com
– App:
WGT-Guide – useful and free app to download at Google Play, iTunes or Amazon
– Music styles:
All sub-genres of dark music: Gothic; EBM; Industrial; Ambient; Neofolk; Synthpop, Goth-Metal, Post Punk etc. 
– Contact:
Phone: 0049-341-2120862 / Email: info@wave-gotik-treffen.de
Information on the city you may check http://en.wikipedia.org/wiki/Leipzig or the official city website www.leipzig.de/int/en
– Photos of the last years:
www.wave-gotik-treffen.de/english/photogallery.php
– Websites:
www.wave-gotik-treffen.de/english
www.facebook.com/WaveGotikTreffen
For information on the city you may check http://en.wikipedia.org/wiki/Leipzig or the official city website www.leipzig.de/int/en.
We will all meet at this year's 28th Wave – Gotik – Treffen in Leipzig!
Goths from all over the world celebrate their gathering in a peacefully relaxed manner, turning Leipzig into a diverse wave of black. This year too about twenty thousand Goths are coming home: to the Wave-Gotik-Treffen!