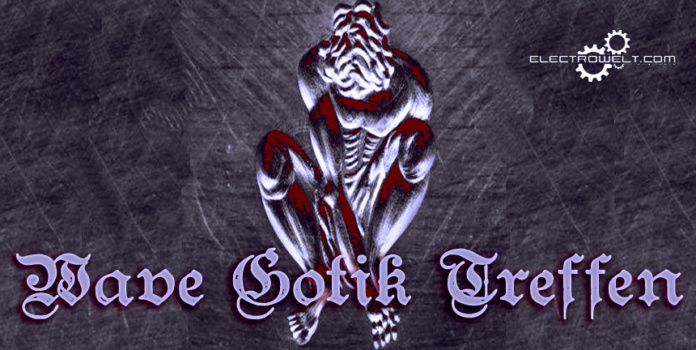 The Wave-Gotik-Treffen 2020 will be from
29th May 2020 until 01st June 2020 in Leipzig/Germany
>> BANDS ALREADY CONFIRMED FOR WGT Festival 2020:
Einstürzende Neubauten (D)

Vnv Nation (GB/IRL)

Linea Aspera (AUS/GB)

Blacklist (USA) – exclusive festival reunion show

Ikon (AUS) Exclusive German Show

Drangsal (D)

Funhouse (S)

Technophobia (USA)

Cabaret Nocturne (F)

Nosferatu (GB)

By The Spirits (RUS)

Noisuf-X (D)

Irfan (BG)

Ritual Howls (USA)

TR/ST (CDN)

Belgrad (D)

ESA (GB)

Sunset Wings (RUS)

Schneewittchen (D)

The Søciety (ex – The Danse Society) (GB)

Combichrist (N/USA)

Brutus (B)

MZ.412 (S)

Terrorfrequenz (D)

Loell Duinn (HR)

Diodati (D)

Whispering Sons (B)

Pouppée Fabrikk (S)

Der Blaue Reiter (E)

Fejd (S)

13TH Chime (GB)

Patty Gurdy's Circle (D)

Vive La Fête (B)

Aesthetic Perfection (USA)

FÏX8:SËD8 (D)

Peter Bjärgö (S)

Eden (AUS)

Of The Wand And The Moon (DK)

Collection D'arnell-Andrea (F)

Louise Lemón (S)

Death In Rome (AQ)

Paradox Obscur (GR)

Laibach (SLO)
Nullvektor (D)
Minuit Machine (F)
Stahlmann (D)

Krayenzeit (D)

KMFDM (D/USA)

Lacrimas Profundere (D)

Ah Cama-Sotz (B)

Nachtblut (D)

Proyecto Mirage (E)

Corvus Corax (D)
Cesair (NL)
Soko Friedhof (D)
Frustration (F)
Boytronic (D)

S.P.O.C.K (S)

Basszilla (F/D)

Eisfabrik (D)

Shireen (NL)

Third Realm (USA)

Funker Vogt (D)

Garmarna (S)

Haggefugg (D)

Syzygyx (USA)

Sangre De Muerdago (E)

Clan Of Xymox (NL)

Rue Oberkampf (D)

Trobar De Morte (E)

Lights Of Euphoria (D)

Culk (A)

Girls Under Glass (D)
Irdorath (BY)
The Names (B)
NZ (A)
Xotox (D)
Sigue Sigue Sputnik (GB)
Our Survival Depends On Us (A)
Schöngeist (D)
Thyrfing (S)
Waldkauz (D)
Lacrimosa (CH)
Enter Tragedy (D)
VV & The Void (USA)
Feuerdorn (

D)

Alex Henry Foster (CDN)
Kontrolle (DE)
Metallspuerhunde (CH)
Parallyzer (ex Paranoid) (D)
Jihad (USA)
Regard Extreme (FR)   
A Split Second (B)
She Owl (D)
Supernova 1006 (RUS)
Kontrast (D)
Lizette Lizette (S)
Psyclon Nine (USA)
Devil-M (D)
Skold (S)
Superikone (D)
The Devil & The Universe (A)
http://www.wave-gotik-treffen.de/english/info/news_en.php
Please Notice that WGT will only announce bands which are confirmed 100% in written form for the Wave-Gotik-Treffen 2020 Festival. So, check back often…
For more information about the confirmed artists, take a look at their official webpages here
WAVE – GOTIK – TREFFEN 2020: dark-romantic celebrations every year at Whitsun in Leipzig – Germany
The biggest worldwide music -and not only- gothic festival is back for the 29rd consecutive year. There is not a single fan of the new & dark/ EBM/ Industrial/ Gothic scene that hasn't heard of and furthermore hasn't dreamt of visiting it, at least once.
 From May 29th to June 1st, again more than 20,000 Goths from all over the world are expected to come together again in Leipzig to celebrate the Wave-Gotik-Treffen as THE international gathering of the dark family.
28 years ago, two Gothic people from Leipzig had an unusual idea: They didn't want to create yet another dark music festival, but rather a supra-regional gathering of like-minded fellows for relaxed meeting, chatting and celebrating. When the 1st Wave-Gotik-Treffen took place in 1992 at the edge of Leipzig with about 2,000 visitors and just a handful of bands, it is unlikely that anyone imagined that within a few years the WGT would become the largest meeting of Gothic people in the world, taking possession of a whole city every year at Whitsun.
Now, the WGT exists more than a quarter-century…
All over the city, there will be more than 200 bands performing, projects and single artists covering the whole wide range of Gothic music: from
Electro-Pop to Goth-Metal, from EBM to Neofolk, from medieval music to Post Punk. Apart from famous bands of the scene, you are invited for new discoveries with several less-known real underground bands or artists from the edge of the Gothic music universe. The concerts and events take place at more than 40 venues spread throughout Leipzig, for instance in the vaults of the Moritzbastei, in the splendid cupola hall of the Volkspalast, in the neo-gothic church Heilandskirche and in the historical public bath Stadtbad, as well as in large concert halls.  The WGT program will also include beautiful classical music again, such as operas, chamber music, choral and organ concerts.
From its' beginning, the Wave-Gotik-Treffen has been much more than a music festival: its' guests may step back to the romantic atmosphere of ancient times at the medieval market place at the Pagan Village (Heidnisches Dorf). We will present authors reading and unusual theatre, cinematic performances will take place. People in historic clothing will gather for a Victorian Picnic in a park. For four days a large hall at the agra-Messepark will be transformed into the biggest Gothic-wares marketplace in the world. In numerous clubs DJs from all over the world will invite you to dance until dawn. There will also be a large fetish party where entrance is only possible by following a strict voluptuous dress code.
A stroll through the winding passages of city centre of Leipzig with its historical buildings of the Renaissance, Baroque and Jugendstil (Art Nouveau) eras is especially worthwhile for art and culture lovers: the entrance to several of Leipzig's museums is free for WGT-guests.
The inhabitants of Leipzig have become familiar with the Treffen over the last two decades – there are no longer any prejudices and the Gothic guests are very welcome here. The most fascinating aspect of the Wave-Gotik-Treffen is surely its unique magic atmosphere that covers the whole city.
-Cheap and entertaining accommodation is available at the huge Treffen camping ground. To enter, you need a special ticket (called Obsorgekarte), Public transport in the city is free for all WGT-guests from Friday morning until noontime Tuesday.
– Camping:
For camping you need a special ticket called Obsorgekarte (available for 30, – €) that allows you to stay at the Treffen- Campground (agra-fairground) from May28th to June 2nd.
– Parking:
For car parking at the Treffen-area (agra) you have to purchase a parking vignette for 15,- € (including advance sale charges). Parking at the Treffen-area (agra-Messepark) is definitely not possible without a parking vignette.
All tickets can be ordered via http://www.wave-gotik-treffen.de/english/
-Tickets:
4-Day-Tickets for all events within the 29th Wave-Gotik-Treffen Whitsun 2020 are available for 130, – € each in advance ticket sale. The Treffen-Event-Ticket includes the free usage of all public transport within Zone 110 of the MDV (Mitteldeutscher Verkehrverbund), this includes all trams, buses and S-Bahn lines except special lines e.g. sightseeing tours).
All tickets can be ordered via www.wave-gotik-treffen.com
We will all meet again at this year's 29rd Wave – Gotik – Treffen in Leipzig!
Goths from all over the world celebrate their gathering in a peacefully relaxed manner, turning Leipzig into a diverse wave of black. This year too about twenty thousand Goths are coming home: to the Wave-Gotik-Treffen!–
Electrowelt 28th WGT Review & Photo Gallery WGT 2019
-Location:
Leipzig, eastern Germany, at about 40 venues spread all over the city; camping site and main venue at the edge of town at the agra-Messepark, Markkleeberg; for information on the city you may check http://en.wikipedia.org/wiki/Leipzig  or the official city website www.leipzig.de/int/en.
– Music styles:
All sub-genres of dark music: Gothic; EBM; Industrial; Ambient; Neofolk; Synthpop, Goth-Metal, Post Punk etc.
– Websites:
www.wave-gotik-treffen.de/english www.facebook.com/WaveGotikTreffen
If you are travelling to the WGT for the first time, you can find lots of useful information for planning your trip on: www.sadgoth.com
–App:
WGT-Guide – useful app to download at Google Play, iTunes or Amazon
– Photos of the last years:
www.wave-gotik-treffen.de/english/photogallery.php
-Contact:
Phone: 0049-341-2120862 / Email:  info@wave-gotik-treffen.de    
WGT special tips
Apart from famous bands of the scene, the coming WGT program will again include several hidden treasures whose names are maybe not known to everybody, but which will surely perform outstanding concerts. So before visiting the WGT, it's worthwhile to take a closer look into the program and to listen to some sample tracks of the artists you don't know. Here are some hints on a few less known, yet interesting bands and artists which will play at the WGT 2020:
Brandenburg
Post Punk | Russia
If you like the driving sound of Motorama or Human Tetris, this band is sure to find a place in your heart. Somehow these young Russian guys all have a very similar sound, but hey: As long as it's that good, who's complaining? Guaranteed to make you dance!
Brutus
Post Metal, Progressive Rock | Belgium
Their band constellation is extraordinary: Besides the usual guitarist and bassist, a lady completing the trio sits singing on drums. You can't tell which one she's better at, she does a fantastic job in both, and together they produce a sound that sweeps away pretty much everything. After touring as a support act for Chelsea Wolfe and Cult Of Luna they are now coming to the WGT for the first time. Highly recommended for fans of the aforementioned artists!
Cabaret Nocturne
Synth Wave, Slo-Mo Electronics | Belgium
Is it still Wave or is it already verging on dark House? Don't worry about which drawer to sort it into, just let yourself drift onto the dance floor…
And: 5.7 million hits on YouTube? Wow! That's usually only possible with very, very BAD music.
Culk
Post Punk, Indie | Austria
Quote from the press release: "Distorted, sharp guitars, rhythmic repetitions reminiscent of Psychedelic Rock, and 60s Nonchalance à la Velvet Underground meet traces of Shoegaze and Post-Punk. The result: like being wrapped in a cold blanket – cosy and yet uncomfortable, inviting and yet challenging, accessible and yet complex." There is little to add to this. Culk belong to the best that has been heard from the German speaking countries in recent years.
Eden
Dark Wave, Ethereal | Australia
Three years ago they gave their European concert debut at the WGT, this year they return with a brand new album and present this new material along with songs from their excellent early phase, which should enchant every fan of bands like Dead Can Dance, This Mortal Coil or the Cocteau Twins.
Despite the fact that this band exists since 1987, it is still a buried jewel to be discovered!
Funhouse
Gothic Rock | Sweden
Little by little the coffin lids of deceased bands are being opened again everywhere,. Fortunately the 90s Goth Rock heroes of Funhouse make no exception and join the queue of revenants to give a new generation the opportunity to experience them live. How nice of them!
Lucy Kruger & The Lost Boys
Dreampop, Shoegaze, Ethereal | South Africa
Some artists simply manage to captivate the listener within seconds. Lucy Kruger is no exception with her soulful melancholic songs. If you already own records by artists such as Anna Ternheim, Agnes Obel, Daughter or Beach House, you shouldn't miss this concert.
MZ.412
Death Industrial | Sweden
Pioneers of the typical Post-Industrial sound of "Cold Meat Industry", dark, sluggish and desperate. Very rarely heard on stage so far, and for the first time ever at the WGT.
Peter Bjärgö
Neoklassik, Ethereal | Sweden
Arcana are certainly known to many, but it can't hurt to explicitly recommend the head of this project again, even though the current "Structures & Downfall" is already his fourth solo album. Of course, the whole thing sounds a lot like Arcana, but that's not a bad thing, on the contrary.
Rue Oberkampf
Cold Wave, Minimal Wave | Germany
This project was founded in 2016 in a genre that is booming like no other. Ice cold, extremely danceable Electronic Wave with partly French lyrics, surely a good live experience as well.
Sangre De Muerdago
Forest Folk | Galicia (Spain)
No longer really an insider tip among fans of folkloristic sounds . Soul music for tree huggers and all those who always wanted to become one.
Beautiful for crying, in every respect. Perfect to let the WGT fade away.
SYZYGYX
Synth Wave | USA
They are currently seen as the "new Boy Harsher". And yes, it's true, the parallels simply can't be denied. But hey: now you can go dancing again without necessarily having to listen to "Pain". See for yourself if the "clone" comes close to the "original", you can't really go wrong.