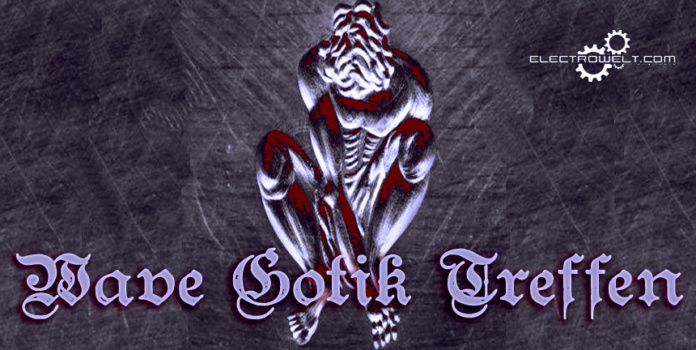 Wave-Gotik-Treffen – Official Announcement.
April 26th, 2021
Dear friends of the WGT, First of all we would like to thank you for your solidarity and your loyalty, which together have brought us wonderful events within the framework of the WGT over the many years.
Our special thanks go to all those who have stood by us in these uncertain times. First and foremost, of course, it is you, our guests, who have bought and held tickets with confidence, but it is also our artists and our partners, with whom we have been working successfully for years. The "culturelessness" of these times affects us as people to the same extent as it affects you.
As guests, we have also taken part in numerous events, exhibitions etc. every year and gained a lot of joy from them. We are all missing this now. We can only too well understand how you must feel, as it is simply no different for us.
In the last weeks and months we have worked out different concepts to realise a WGT in an appropriate framework. We have also tried to make these concepts feasible under the constantly changing conditions.
This required, among other things, the planning of different venues that deviated from the classic WGT locations, which had to be provided with completely different admission-, hygiene- and security-concepts. We deliberately did not go public with the various considerations, as the half-life of the legislative statements did not provide a serious basis for this. Now, since the end of this week, it looks as if all cultural events, of whatever size and orientation, and for us in particular of course the WGT, are prohibited.
Of course, we are still keeping open the option of holding an event at Whitsun, of whatever kind. However, it is also likely that the framework conditions will not correspond to those of a traditional WGT.
Therefore, in the case of such a potential event, the entrance tickets already purchased for the WGT would not apply, i.e. they would retain their value for the following year.
Of course, in such a case everyone is free to make use of their right of return. As soon as there are reliable current developments regarding a possible meeting at Pentecost 2021, we will inform you.
We, and we think we can speak for many Leipzigers as well, miss you very much and look forward to seeing you again as soon as possible! Until then, we wish you, your families and your friends much strength and confidence!
Yours Treffen & Festspielgesellschaft.
Liebe Freunde des WGTs,
zuvorderst möchten wir Euch für Eure Verbundenheit und Eure Treue danken, die uns gemeinsam über die vielen Jahre hinweg wunderbare Veranstaltungen im Rahmen des WGTs beschert haben. Unser besonderer Dank gilt allen denjenigen, die in diesen unsicheren Zeiten zu uns gestanden haben.
Dies seid in erster Linie vor allem natürlich Ihr, unsere Gäste, welche mit Zuversicht Karten erworben und gehalten haben, dies sind aber auch unsere Künstler sowie unsere Partner, mit denen wir seit Jahren erfolgreich zusammenarbeiten. Die "Kulturlosigkeit" dieser Zeiten betrifft uns als Menschen im gleichen Maße, wie es Euch betrifft.
Wir haben als Gäste ebenso jedes Jahr an zahlreichen Veranstaltungen, Ausstellungen etc. teilgenommen und viel Lebensfreude daraus gewonnen. Diese entbehren wir jetzt alle. Wir können also nur allzu gut nachempfinden, wie Euch zumute sein muß, da es uns schlicht nicht anders ergeht.
Wir haben in den letzten Wochen und Monaten unterschiedliche Konzepte erarbeitet, um ein WGT in einem angemessenen Rahmen umzusetzen. Wir haben auch versucht, diese Konzepte unter den sich ständig wandelnden Voraussetzungen entsprechend realisierbar zu gestalten. Das verlangte unter anderem die Planung differenter, von den klassischen Lokalitäten abweichender Veranstaltungsorte, welche mit vollkommen unterschiedlichen Einlaß-, Hygiene- und Sicherheitskonzepten versehen werden mußten. Wir sind bewußt mit den vielfältigen Überlegungen nicht an die Öffentlichkeit gegangen, da die Halbwertszeit der Aussagen der Legislative dafür keine seriöse Basis bot.
Nun sieht es seit dem Ende dieser Woche so aus, als wären alle Kulturveranstaltungen, welcher Größe und Ausrichtung auch immer, für uns im Besonderen natürlich das WGT, untersagt. Wir halten uns selbstverständlich weiterhin die Option der Durchführung einer Veranstaltung zu Pfingsten, wie auch immer geartet, offen. Wahrscheinlich ist aber auch, das die Rahmenbedingungen nicht denen eines althergebrachten WGTs entsprechen werden können. Deshalb würden bei solch einer potentiellen Veranstaltung auch die für das WGT bereits erworbenen Eintrittsberechtigungen keine Anwendung finden, das heißt, diese behielten Ihren Wert für das folgende Jahr.
Selbstverständlich steht es in einem solchen Fall jedem frei, von seinem Rückgaberecht Gebrauch zu machen. Sobald es verläßliche aktuelle Entwicklungen zu einer möglichen Zusammenkunft zu Pfingsten 2021 geben sollte, werden wir Euch darüber informieren.
Wir, und wir denken, ebenso für viele Leipziger sprechen zu können, vermissen Euch sehr und freuen uns auf ein möglichst baldiges Wiedersehen! Bis dahin wünschen wir Euch, Euren Familien sowie Euren Freunden viel Kraft und Zuversicht!
Eure Treffen & Festspielgesellschaft
Apr. 26th, 2021
>> BANDS ALREADY CONFIRMED FOR WGT Festival 2022:
MINUIT MACHINE (F)

FÏX8:SËD8 (D)

LIZETTE LIZETTE (S)

KAIZER (D)

BY THE SPIRITS (PL)

RITUAL HOWLS (USA)

LOELL DUINN (HR)

CABARET NOCTURNE (B)

JIHAD (USA)

CUT HANDS (GB)

FUNHOUSE (S)

COLLECTION D'ARNELL-ANDREA (F)

LIEBKNECHT (D)

THE NAMES (B)

HORSKH (F)

BLACKLIST (USA)

DEATH IN ROME (AQ)

REGARD EXTRÊME (F)

DIODATI (D)

HØRD (F)
http://www.wave-gotik-treffen.de/english/info/news_en.php
Please Notice that WGT will only announce bands which are confirmed 100% in written form for the Wave-Gotik-Treffen 2022 Festival. So, check back often…
For more information about the confirmed artists, take a look at their official webpages here
WAVE – GOTIK – TREFFEN 2022: dark-romantic celebrations every year at Whitsun in Leipzig – Germany
The biggest worldwide music -and not only- gothic festival is back for the 29rd consecutive year. There is not a single fan of the new & dark/ EBM/ Industrial/ Gothic scene that hasn't heard of and furthermore hasn't dreamt of visiting it, at least once.
Again more than 20,000 Goths from all over the world are expected to come together again in Leipzig to celebrate the Wave-Gotik-Treffen as THE international gathering of the dark family.
29 years ago, two Gothic people from Leipzig had an unusual idea: They didn't want to create yet another dark music festival, but rather a supra-regional gathering of like-minded fellows for relaxed meeting, chatting and celebrating. When the 1st Wave-Gotik-Treffen took place in 1992 at the edge of Leipzig with about 2,000 visitors and just a handful of bands, it is unlikely that anyone imagined that within a few years the WGT would become the largest meeting of Gothic people in the world, taking possession of a whole city every year at Whitsun.
Now, the WGT exists more than a quarter-century…
All over the city, there will be more than 200 bands performing, projects and single artists covering the whole wide range of Gothic music: from
Electro-Pop to Goth-Metal, from EBM to Neofolk, from medieval music to Post Punk. Apart from famous bands of the scene, you are invited for new discoveries with several less-known real underground bands or artists from the edge of the Gothic music universe. The concerts and events take place at more than 40 venues spread throughout Leipzig, for instance in the vaults of the Moritzbastei, in the splendid cupola hall of the Volkspalast, in the neo-gothic church Heilandskirche and in the historical public bath Stadtbad, as well as in large concert halls.  The WGT program will also include beautiful classical music again, such as operas, chamber music, choral and organ concerts.
From its' beginning, the Wave-Gotik-Treffen has been much more than a music festival: its' guests may step back to the romantic atmosphere of ancient times at the medieval market place at the Pagan Village (Heidnisches Dorf). We will present authors reading and unusual theatre, cinematic performances will take place. People in historic clothing will gather for a Victorian Picnic in a park. For four days a large hall at the agra-Messepark will be transformed into the biggest Gothic-wares marketplace in the world. In numerous clubs DJs from all over the world will invite you to dance until dawn. There will also be a large fetish party where entrance is only possible by following a strict voluptuous dress code.
A stroll through the winding passages of city centre of Leipzig with its historical buildings of the Renaissance, Baroque and Jugendstil (Art Nouveau) eras is especially worthwhile for art and culture lovers: the entrance to several of Leipzig's museums is free for WGT-guests.
The inhabitants of Leipzig have become familiar with the Treffen over the last two decades – there are no longer any prejudices and the Gothic guests are very welcome here. The most fascinating aspect of the Wave-Gotik-Treffen is surely its unique magic atmosphere that covers the whole city.
-Cheap and entertaining accommodation is available at the huge Treffen camping ground. To enter, you need a special ticket (called Obsorgekarte), Public transport in the city is free for all WGT-guests from Friday morning until noontime Tuesday.
– Camping:
For camping you need a special ticket called Obsorgekarte (available for 30, – €) that allows you to stay at the Treffen- Campground (agra-fairground) from May28th to June 2nd.
– Parking:
For car parking at the Treffen-area (agra) you have to purchase a parking vignette for 15,- € (including advance sale charges). Parking at the Treffen-area (agra-Messepark) is definitely not possible without a parking vignette.
All tickets can be ordered via http://www.wave-gotik-treffen.de/english/
-Tickets:
4-Day-Tickets for all events within the Wave-Gotik-Treffen Whitsun 2020 are available for 130, – € each in advance ticket sale. The Treffen-Event-Ticket includes the free usage of all public transport within Zone 110 of the MDV (Mitteldeutscher Verkehrverbund), this includes all trams, buses and S-Bahn lines except special lines e.g. sightseeing tours).
All tickets can be ordered via www.wave-gotik-treffen.com
We will all meet again at this year's Wave – Gotik – Treffen in Leipzig!
Goths from all over the world celebrate their gathering in a peacefully relaxed manner, turning Leipzig into a diverse wave of black. This year too about twenty thousand Goths are coming home: to the Wave-Gotik-Treffen!–
Electrowelt 28th WGT Review & Photo Gallery WGT 2019
-Location:
Leipzig, eastern Germany, at about 40 venues spread all over the city; camping site and main venue at the edge of town at the agra-Messepark, Markkleeberg; for information on the city you may check http://en.wikipedia.org/wiki/Leipzig  or the official city website www.leipzig.de/int/en.
– Music styles:
All sub-genres of dark music: Gothic; EBM; Industrial; Ambient; Neofolk; Synthpop, Goth-Metal, Post Punk etc.
– Websites:
www.wave-gotik-treffen.de/english www.facebook.com/WaveGotikTreffen
If you are travelling to the WGT for the first time, you can find lots of useful information for planning your trip on: www.sadgoth.com
–App:
WGT-Guide – useful app to download at Google Play, iTunes or Amazon
– Photos of the last years:
www.wave-gotik-treffen.de/english/photogallery.php
-Contact:
Phone: 0049-341-2120862 / Email:  info@wave-gotik-treffen.de    
WGT special tips
Apart from famous bands of the scene, the coming WGT program will again include several hidden treasures whose names are maybe not known to everybody, but which will surely perform outstanding concerts. So before visiting the WGT, it's worthwhile to take a closer look into the program and to listen to some sample tracks of the artists you don't know.