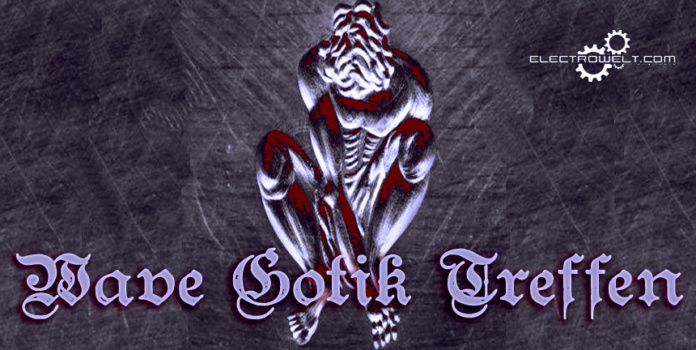 The 29

th

Wave-Gotik-Treffen 2022
will be from
03

rd

 June 2022
until
06

th

June 2022
in Leipzig/Germany.
♦ VISIT THIS LINK FOR THE OFFICIAL PROGRAM + RUNNING ORDER ♦
>> BANDS ALREADY CONFIRMED FOR WGT Festival 2022:
http://www.wave-gotik-treffen.de/english/info/news_en.php
For more information about the confirmed artists, take a look at their official webpages here
WAVE – GOTIK – TREFFEN 2022: dark-romantic celebrations every year at Whitsun in Leipzig – Germany
The biggest worldwide music -and not only- gothic festival is back for the 29rd consecutive year. There is not a single fan of the new & dark/ EBM/ Industrial/ Gothic scene that hasn't heard of and furthermore hasn't dreamt of visiting it, at least once.
Again more than 20,000 Goths from all over the world are expected to come together again in Leipzig to celebrate the Wave-Gotik-Treffen as THE international gathering of the dark family.
>> 2022 Latest Newsletter in regards to the Agra stage and location:
Dear Treffen visitors, in the last few days we have been negotiating intensively with the city representatives and together we have examined different solutions for the problems that have arisen due to the planned loss of the agra site. As of today, it is now clear: we can use the agra fairground as usual for the upcoming WGT. After examining its overall capacities, the city has decided to accommodate the refugees from Ukraine on the agra at a later date, or to shelter them at other locations. We appreciate that the city of Leipzig can thus fulfil its responsibility in all respects. Your WGT organisers. <<
29 years ago, two Gothic people from Leipzig had an unusual idea: They didn't want to create yet another dark music festival, but rather a supra-regional gathering of like-minded fellows for relaxed meeting, chatting and celebrating. When the 1st Wave-Gotik-Treffen took place in 1992 at the edge of Leipzig with about 2,000 visitors and just a handful of bands, it is unlikely that anyone imagined that within a few years the WGT would become the largest meeting of Gothic people in the world, taking possession of a whole city every year at Whitsun.
Now, the WGT exists more than a quarter-century…
All over the city, there will be more than 200 bands performing, projects and single artists covering the whole wide range of Gothic music: from
Electro-Pop to Goth-Metal, from EBM to Neofolk, from medieval music to Post Punk. Apart from famous bands of the scene, you are invited for new discoveries with several less-known real underground bands or artists from the edge of the Gothic music universe. The concerts and events take place at more than 40 venues spread throughout Leipzig, for instance in the vaults of the Moritzbastei, in the splendid cupola hall of the Volkspalast, in the neo-gothic church Heilandskirche and in the historical public bath Stadtbad, as well as in large concert halls.  The WGT program will also include beautiful classical music again, such as operas, chamber music, choral and organ concerts.
From its' beginning, the Wave-Gotik-Treffen has been much more than a music festival: its' guests may step back to the romantic atmosphere of ancient times at the medieval market place at the Pagan Village (Heidnisches Dorf). We will present authors reading and unusual theatre, cinematic performances will take place. People in historic clothing will gather for a Victorian Picnic in a park. For four days a large hall at the agra-Messepark will be transformed into the biggest Gothic-wares marketplace in the world. In numerous clubs DJs from all over the world will invite you to dance until dawn. There will also be a large fetish party where entrance is only possible by following a strict voluptuous dress code.
A stroll through the winding passages of city centre of Leipzig with its historical buildings of the Renaissance, Baroque and Jugendstil (Art Nouveau) eras is especially worthwhile for art and culture lovers: the entrance to several of Leipzig's museums is free for WGT-guests.
The inhabitants of Leipzig have become familiar with the Treffen over the last two decades – there are no longer any prejudices and the Gothic guests are very welcome here. The most fascinating aspect of the Wave-Gotik-Treffen is surely its unique magic atmosphere that covers the whole city.
-Cheap and entertaining accommodation is available at the huge Treffen camping ground. To enter, you need a special ticket (called Obsorgekarte), Public transport in the city is free for all WGT-guests from Friday morning until noontime Tuesday.
– Camping:
For camping you need a special ticket called Obsorgekarte (available for 30, – €) that allows you to stay at the Treffen- Campground (agra-fairground) from May28th to June 2nd.
– Parking:
For car parking at the Treffen-area (agra) you have to purchase a parking vignette for 15,- € (including advance sale charges). Parking at the Treffen-area (agra-Messepark) is definitely not possible without a parking vignette.
All tickets can be ordered via http://www.wave-gotik-treffen.de/english/
-Tickets:
4-Day-Tickets for all events within the Wave-Gotik-Treffen Whitsun 2020 are available for 130, – € each in advance ticket sale. The Treffen-Event-Ticket includes the free usage of all public transport within Zone 110 of the MDV (Mitteldeutscher Verkehrverbund), this includes all trams, buses and S-Bahn lines except special lines e.g. sightseeing tours).
All tickets can be ordered via www.wave-gotik-treffen.com
We will all meet again at this year's Wave – Gotik – Treffen in Leipzig!
Goths from all over the world celebrate their gathering in a peacefully relaxed manner, turning Leipzig into a diverse wave of black. This year too about twenty thousand Goths are coming home: to the Wave-Gotik-Treffen!–
Electrowelt 28th WGT Review & Photo Gallery WGT 2019
-Location:
Leipzig, eastern Germany, at about 40 venues spread all over the city; camping site and main venue at the edge of town at the agra-Messepark, Markkleeberg; for information on the city you may check http://en.wikipedia.org/wiki/Leipzig  or the official city website www.leipzig.de/int/en.
– Music styles:
All sub-genres of dark music: Gothic; EBM; Industrial; Ambient; Neofolk; Synthpop, Goth-Metal, Post Punk etc.
– Websites:
www.wave-gotik-treffen.de/english www.facebook.com/WaveGotikTreffen
If you are travelling to the WGT for the first time, you can find lots of useful information for planning your trip on: www.sadgoth.com
–App:
WGT-Guide – useful app to download at Google Play, iTunes or Amazon
– Photos of the last years:
www.wave-gotik-treffen.de/english/photogallery.php
-Contact:
Phone: 0049-341-2120862 / Email:  info@wave-gotik-treffen.de    
WGT special tips
Apart from famous bands of the scene, the coming WGT program will again include several hidden treasures whose names are maybe not known to everybody, but which will surely perform outstanding concerts. So before visiting the WGT, it's worthwhile to take a closer look into the program and to listen to some sample tracks of the artists you don't know.