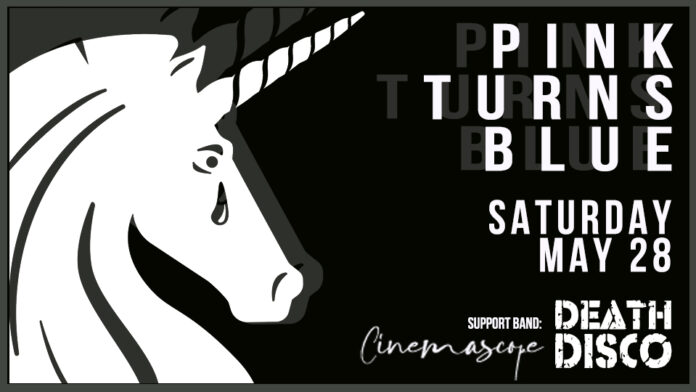 Pink Turns Blue (DE) | Cinemascope (GR) | live at Death Disco | Saturday May 28
Το Σάββατο 28 Μαίου, οι Pink Turns Blue επιστρέφουν στο Death Disco, έχοντας στις αποσκευές τους έναν εξαιρετικό καινούργιο δίσκο (tainted) και όλα αυτά τα post punk anthems από το παρελθόν που μας έκαναν να τους αγαπήσουμε!
PINK TURNS BLUE – TAINTED TOUR 2022
Pioneering darkwave / postpunk outfit Pink Turns Blue 
to present their new album 'Tainted' live in 2022
Pink Turns Blue – Tainted Tour 2022
"One of the most ethically driven and environmentally conscious post-punk artists of our time… this latest offering is sure to go down in the band's record as one of PTB's most powerful releases" ~ The Spill Magazine
"Consistent purveyors of quality guitar-laden post punk and dark-bent indie rock… one of the most honest and most direct enduring acts in post punk today" ~ Destroy // Exist
"The timeless message is driven home with a timeless sound composed with refined effect" ~ Post Punk.com
"There are bands which have had high ranks in the charts and still have a place deep in the heart of many fans. One of those bands is the German Dark Wave legend Pink Turns Blue" ~ Reflections of Darkness
"'You Still Mean Too Much To Me' from their 'Tainted LP, an anthemic song that channels a personalized situation to dark sonic gold. We've all been there – this music is emotionally harsh and sublime" – The Big Takeover
"When it comes to actual darkwave, Berlin's Pink Turns Blue are rightly regarded as one of the founding acts… up to the present, they have also been one of the finer exemplars of continental postpunk" ~ CVLT Nation
Iconic post-punk / darkwave outfit Pink Turns Blue has released their new 'Tainted' album via Orden Records, the result of time well spent during a lockdown year – writing, recording, mixing and mastering the new album in their Berlin recording studio. They also present their new video for 'Not Even Trying', a lament for a wasting planet. On 'Tainted', the band added an electronic element to their classical vocals, guitar, bass and drums. The album title itself relates to the state of our world: climate change, its effects, the reaction to it, the split within society, isolation, health risks and financial uncertainty.
Mic Jogwer – vocals & guitars 
Paul Richter – drums
Luca Sammuri- bass.
Opening Act: Cinemascope:
We are so thrilled to announce that Cinemascope will hit the stage for the first time ever on Saturday May 28, supporting the post punk legends Punk Turns Blue! The venue is Death Disco (Athens)
There won't be any Cinemascope cd's available at the show since they are officially sold out from our site, and we are so grateful to anyone that bought and supported us!
But, there is a strong possibility to have a small run of our new T shirts available at the Death Disco show, we'll keep you updated!
Cinemascope on Bandcamp:
Here
Cinemascope on stage are:
Leo Skiadas (vox)
Nick Drivas (bass)
Johnny Johnnakis (bassVI & guitars)
Today Pink Turns Blue is a trio consisting of Mic Jogwer (vocals, guitar), Luca Sammuri (bass) and Paul Richter (drums). In the first generation of gothic rock, Pink Turns Blue formed in 1985, originally as a duo consisting of Jogwer and Thomas Elbern, plus a drum machine.
Naming themselves after a Hüsker Dü song, their sound was initially inspired by The Chameleons, Clan of Xymox, and The Cure.
Their debut album 'If Two Worlds Kiss' brought dark undertones into their new wave sound, essentially advancing the darkwave sub-genre while becoming a seminal album in the post-punk genre.
Emerging from the fear and uncertainty of a divided Cold War Germany, the band went on to release 11 full-length LPs.