Although the duo has officially disbanded, Texas synth pop stalwarts IRIS will reissue their 2005 masterpiece "Wrath" as a lavish 2CD artbook edition and also on vinyl at a later date due to production shortages.  "Wrath" has been diligently remastered by Andrew Sega and contains bonus tracks and materials. The artbook will be released on April 29, 2022. 
IRIS are dead, long live IRIS! Although Andrew Sega and Reagan Jones have officially announced to part amicably at the end of last year, their many adherents do not need to fall into despair.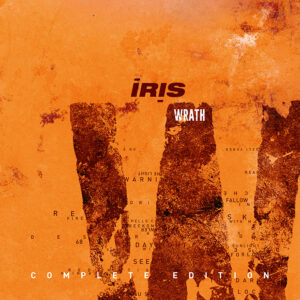 With the band's expressed consent, Dependent will reissue the long out-of-print third album "Wrath" in two special editions. This pinnacle out of IRIS' impressive catalogue will be released with a new mastering by Andrew Sega for the first time as a limited 12″ vinyl with improved, high-resolution cover artwork. "Wrath" will also re-appear in the shape of a must-have limited edition double CD artbook, containing the remastered album, an exclusive 10-track bonus CD, live photos and liner notes by J. Ned Kirby (STROMKERN) and Dependent founder Stefan Herwig.
J. Ned Kirby, who has supported IRIS live on tour several times, sheds an inside view on the reasons for the reissue of "Wrath": "Each individual album by Iris represents a post-grad course in songwriting and production," the American writes. "Yet with its ten incomparable arrangements for ten perfect songs, 'Wrath' achieves the level of a masterclass. From the explosive opening through 'Land of Fire' to the hopeful coda of 'Delivered One', this is what a band firing from all guns sounds like. On 'Wrath', no element is out of place, no chord is too ordinary, and no song is too long even a second. Or in short: this album is fantastic!"
   
On "Wrath", IRIS fused their concise sound design with increasingly prominent guitars for the first time in order to create outstanding songs. This, combined with Reagan Jones' distinctive vocals, resulted in a shoegaze-effect that set IRIS a world apart from the grey mass of random synthpop acts. With the lavish re-release of "Wrath", Dependent pay tribute to an excellent album that has lost nothing of its original fascination even after 15 years.
Release date: April 29, 2022
Line-up
Reagan Jones – vocals
Andrew Sega – keyboards, synth
Style: Synth Pop
Links
www.facebook.com/iris.radiant
Pre-sale link 
http://spkr.lnk.to/iris-wrath
Available format
"Wrath" will be available as a 2CD 48-page hardcover artbook edition including bonus tracks, lyrics, live images- and liner notes. The album will also be made available on black and on coloured vinyl at a later date due to production shortages.
Artbook CD 1
1. Lands of Fire
2. It Generates
3. Imposter
4. Appetite
5. Guide on Raging Stars
6. 68
7. No One Left to Lose
8. Hell's Coming with Me
9. Intercede Light
10. Delivered One
Artbook CD 2
1. It Generates (Darker Days Remix)
2. No One Left to Lose (Conetik Remix)
3. Q-Swirl
4. The Harder We Fight It 
5. Appetite (Intuition's Genosis Mix)
6. Lands of Fire (Mesh Pyromix)
7. Imposter (ThouShaltNot Remix)
8. Delivered One (Kearley Edit)
9. 68 (Alpinestars Mix)
10. Lands of Fire (Leap of Faith Mix).